Dame Clare Marx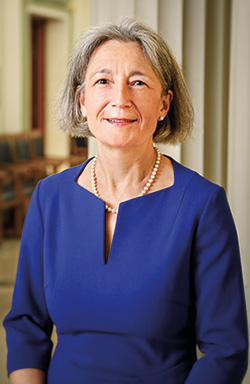 We are deeply saddened to hear of the death of Dame Clare Marx CBE, DL, MBBS.
A leading light in orthopaedic surgery, Dame Clare was a role model and inspiration to so many.
A former British Orthopaedic Association President, her commitment to compassionate strong leadership was demonstrated throughout her career. Clare went on to exemplify these qualities as President of the RCS, Chair of the FMLM and ultimately Chair of the GMC.
Clare actively championed excellence and inclusion in surgery and she encouraged and inspired so many young female medics to pursue surgery and to take on leadership roles themselves.
There was no-one quite like her, always gracious, always kind, always there with advice, comment and support for patients and colleagues alike.
We will miss her dearly and her influence will be felt across surgery for many years to come.
Life & Times - Remembering Dame Clare Marx
Time Radio Interview with Professor Dame Carrie MacEwen, GMC Chair and Professor Deborah Eastwood, BOA President, who talk about Dame Clare's life and legacy with Mariella Frostrup.
Listen to the interview (from 6 mins 35) at: www.thetimes.co.uk/radio/show/20221208-15359/2022-12-08.
In a moving BBC Sounds interview, recorded in April 2022, Dame Clare Marx talks to Michael Berkeley about her pioneering medical career, the shock of her diagnosis, and the music that's sustained her.
Listen to the interview at: www.bbc.co.uk/sounds/play/m0016jv.