Hear from others who chose a career in T&O!
Life as a Trauma and Orthopaedic Surgeon can be challenging and hard work but at the same time is very rewarding. It is a career that we at the British Orthopaedic Association would highly recommend to interested and committed trainees.
Hear what some of our members say about why they chose to pursue a career in Trauma and Orthopaedics, what they enjoy about their job and why they find it rewarding.
A career in Orthopaedic Surgery - Interview with Deborah Eastwood
Pranai Buddhdev interviews Professor Deborah Eastwood from Great Ormond Street Hospital, London & Royal National Orthopaedic Hospital, Stanmore. Together they discuss her illustrious career, what drove her to surgery and paediatric orthopaedics and explore her ongoing contributions to international education, research and leadership at the highest level.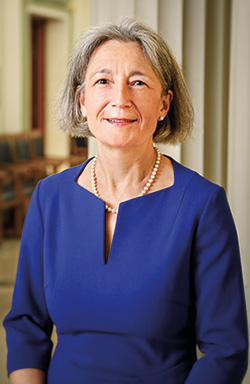 In 2014 Dame Clare Marx became the first woman President of the Royal College of Surgeons of England, and, five years later, she was the first woman to become the Chair of the General Medical Council.
In a moving interview, recorded in April 2022, Clare Marx talks to Michael Berkeley about her pioneering medical career, the shock of her diagnosis, and the music that's sustained her.
Listen to the interview at: www.bbc.co.uk/sounds/play/m0016jv.
Come Join Us - A video to promote the specialty of Children's Orthopaedics
Hear from a diverse group of paediatric orthopaedic surgeons as to why they chose a career in Children's Orthopaedic Surgery and what they thinks makes it so rewarding.
A Career in Orthopaedics - As A Female Surgeon
Women of East Anglia T&O Surgeons (WEATS) share their experiences of working as a female orthopaedic surgeon. Hear their advice on a career in T&O surgery and what it means to them.
A career in Orthopaedic Surgery - Kat Dayananda
Kat Dayananda, a Trauma and Orthopaedic Surgery Specialty Trainee on the Wales Deanery, explains why she chose a career in trauma and orthopaedics and recommends, "if you, like me wish to be a real person, dealing and helping with with real people's problems, then choose a career in T&O".
A career in Orthopaedic Surgery - Shiv Kolhe
Shiv Kolhe, a 4th year medical student at Newcastle University, wants to pursue a career in T&O because it's an exciting, varied and incredibly rewarding specialty. He believes orthopaedic surgeons have an impressive ability to change patients lives.
A career in Orthopaedic Surgery - Chris Lewis
Chris Lewis, an orthopaedic registrar on the Yorkshire rotation and current BOTA secretary, explains why the variety of patients and work was the reason he chose a career in trauma and orthopaedics.
A career in Orthopaedic Surgery - Nick Judkins
Nick Judkins, Trauma & Orthopaedic Registrar, explains that he chose a career in orthopaedic surgery because it's extremely satisfying to see his patients walk as they leave the building and the positve difference he and his team make on the wards.
A career in Orthopaedic Surgery - Ran Wei
Ran Wei, Past BOTA President, chose a career in orthopaedics beacause it's FUN! He comes to work surrounded by like-minded people and because he knows what he does makes a real difference to patients lifes. He believes T&O is a career that allows you to be practical and work in an enviroment with ever developing technologies.