Careers
Being a Trauma and Orthopaedic (T&O) surgeon is an extremely rewarding career. There are few areas in medicine where you have the opportunity to transform people's lives, whether you are putting them back together after severe trauma, or you are giving someone back their independence by relieving the pain from an arthritic joint. A career in T&O combines theoretical knowledge with practical skills, but also involves an interface with technology, industry and a multidisciplinary team unmatched by any other specialty.
As part of Careers Week 2023, we asked some of our members for 'Advice I would give to my younger self'. What I know now that I wish I'd known then' in the form of a short letter. These are available to read on Orthopaedics Online.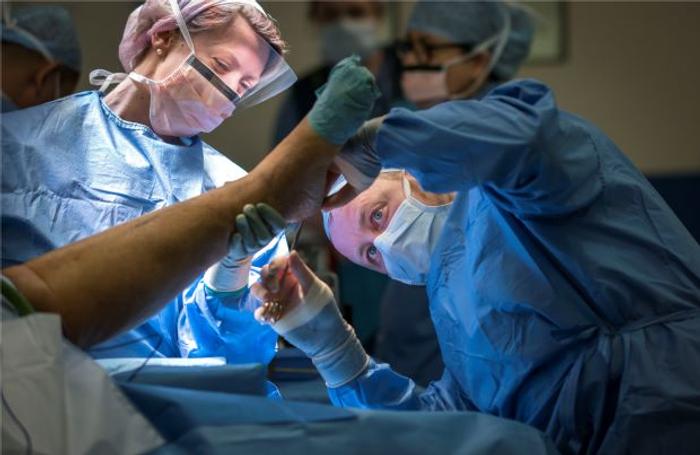 What does T&O cover?
Trauma and orthopaedic surgeons diagnose and treat a wide range of conditions of the musculoskeletal system which includes bones, joints and their associated soft tissues including tendons, nerves and muscles. Trauma work involves dealing with fractures and other injuries from accidents and sports injuries but also fragility fractures such as fractured hips in older patients. Specialist areas include lower-limb joint reconstruction (hip or knee, foot and ankle), upper limb (shoulder, elbow or hands), spine, bone tumours, paediatric orthopaedics, rheumatoid surgery, and sports and exercise surgery.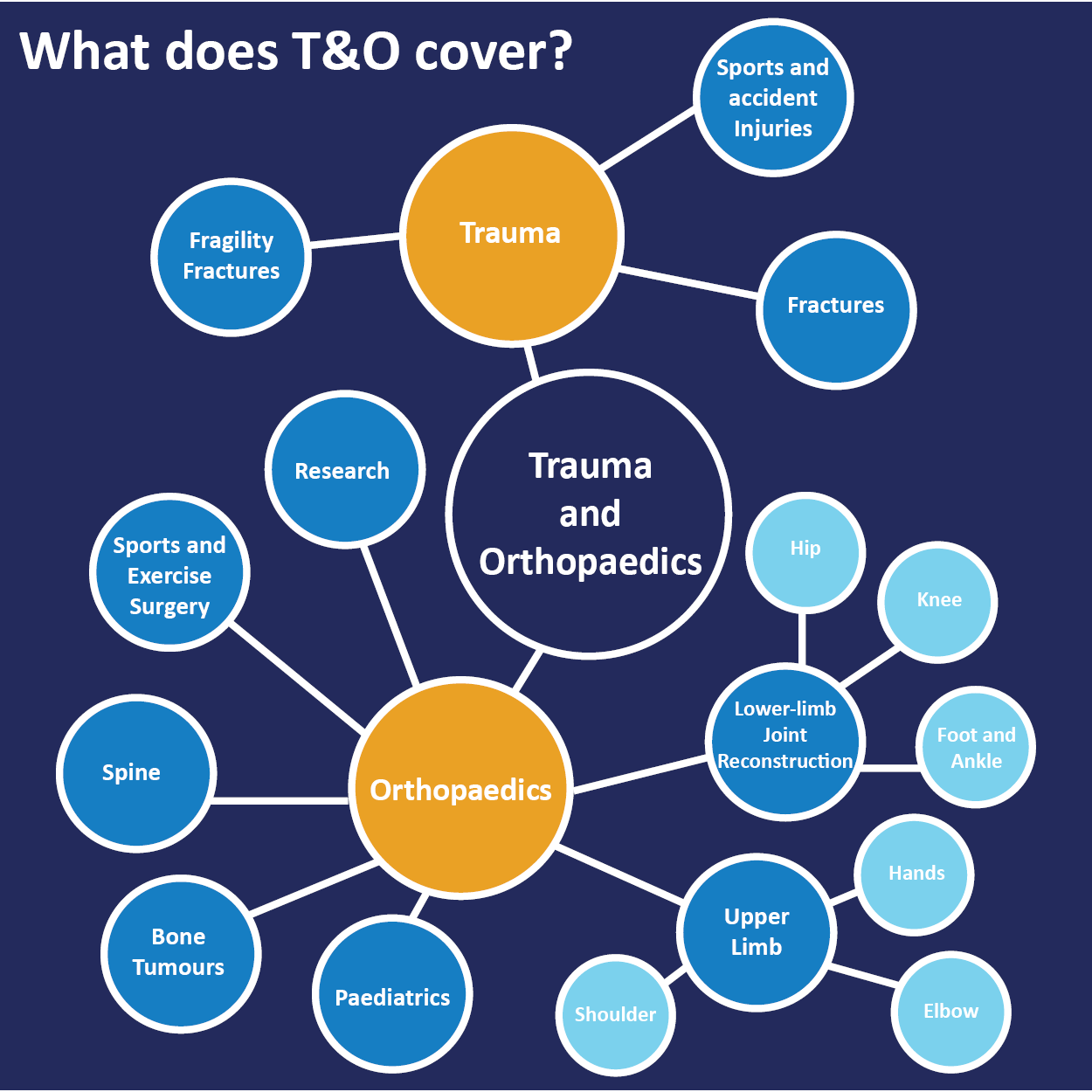 Why should I do T&O?
T&O surgery is a rewarding specialty and one where you can feel you are genuinely making a difference to people's by improving their quality of life. Patients are usually grateful when you replace a joint to alleviate painful arthritis or repair multiple fractures following an accident.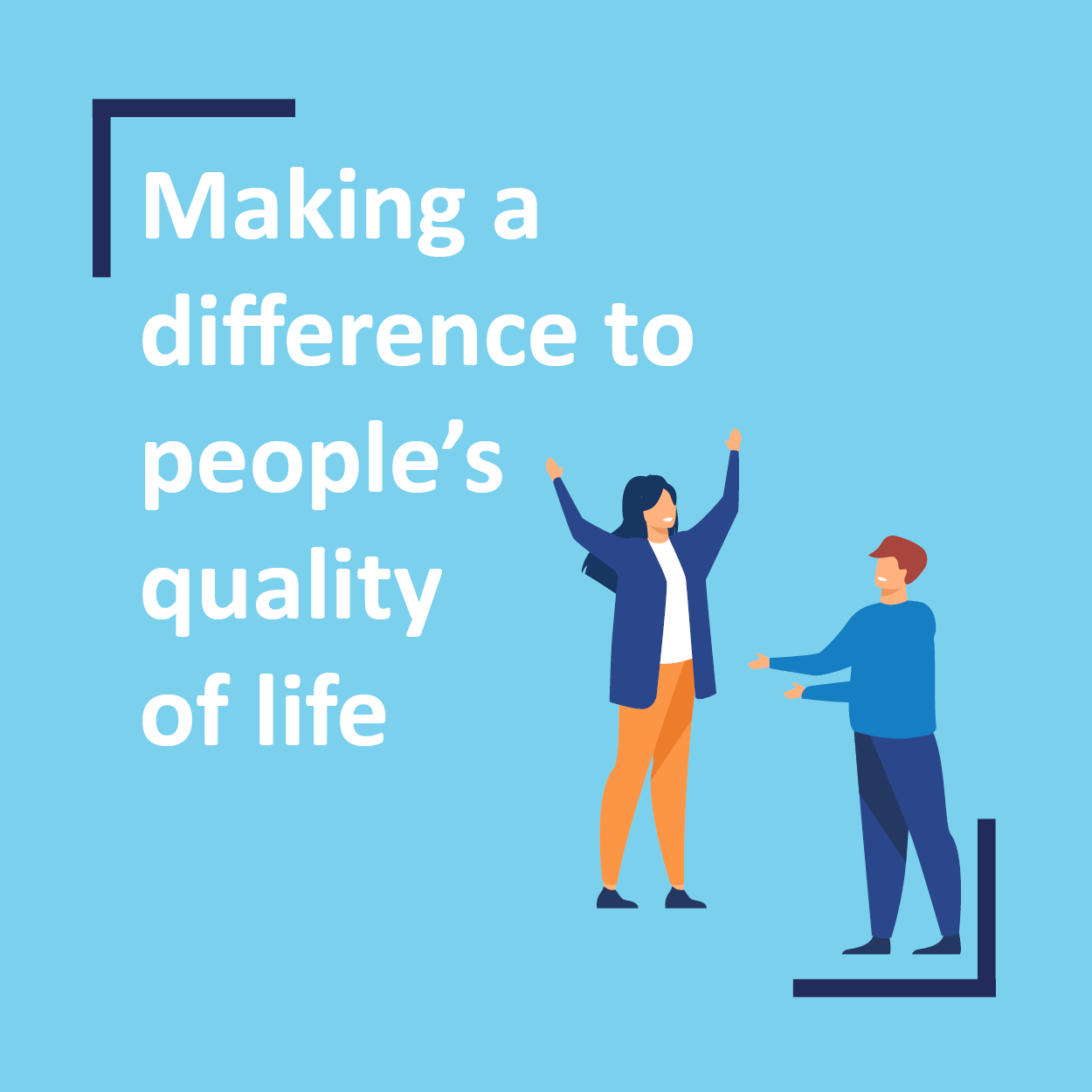 T&O surgery is also seen as a sociable specialty and the support you'll receive from other colleagues adds to your job satisfaction.
T&O offers many research opportunities. The technology in T&O is developing rapidly and new therapeutic techniques greatly benefit patients. Surgical techniques are always moving forward with minimally invasive surgery increasingly aiding reduced scarring and faster recovery times.
T&O surgeons comprise a significant proportion of the UK's surgical workforce. There is a growing demand for their services as a result of our increasingly ageing population coupled with the UK's obesity epidemic.
Where can a role in T&O lead?
T&O surgery is a highly competitive specialty, with varied and interesting career opportunities.
Consultant roles
You can apply for consultant roles six months prior to achieving your Certificate of Completion of Training (CCT). You will receive your CCT at the end of your T&O training.
SAS doctor roles
There are also opportunities to work at non-consultant level, for example as a SAS (Specialist and Associate Specialist) doctor. SAS surgeons (Staff, Associate Specialists and Specialty Doctors) work as career grade specialty doctors who are not in training or in consultant posts. You will need at least four postgraduate years training (two of those being in a relevant specialty) before you can apply for Specialty Doctor roles.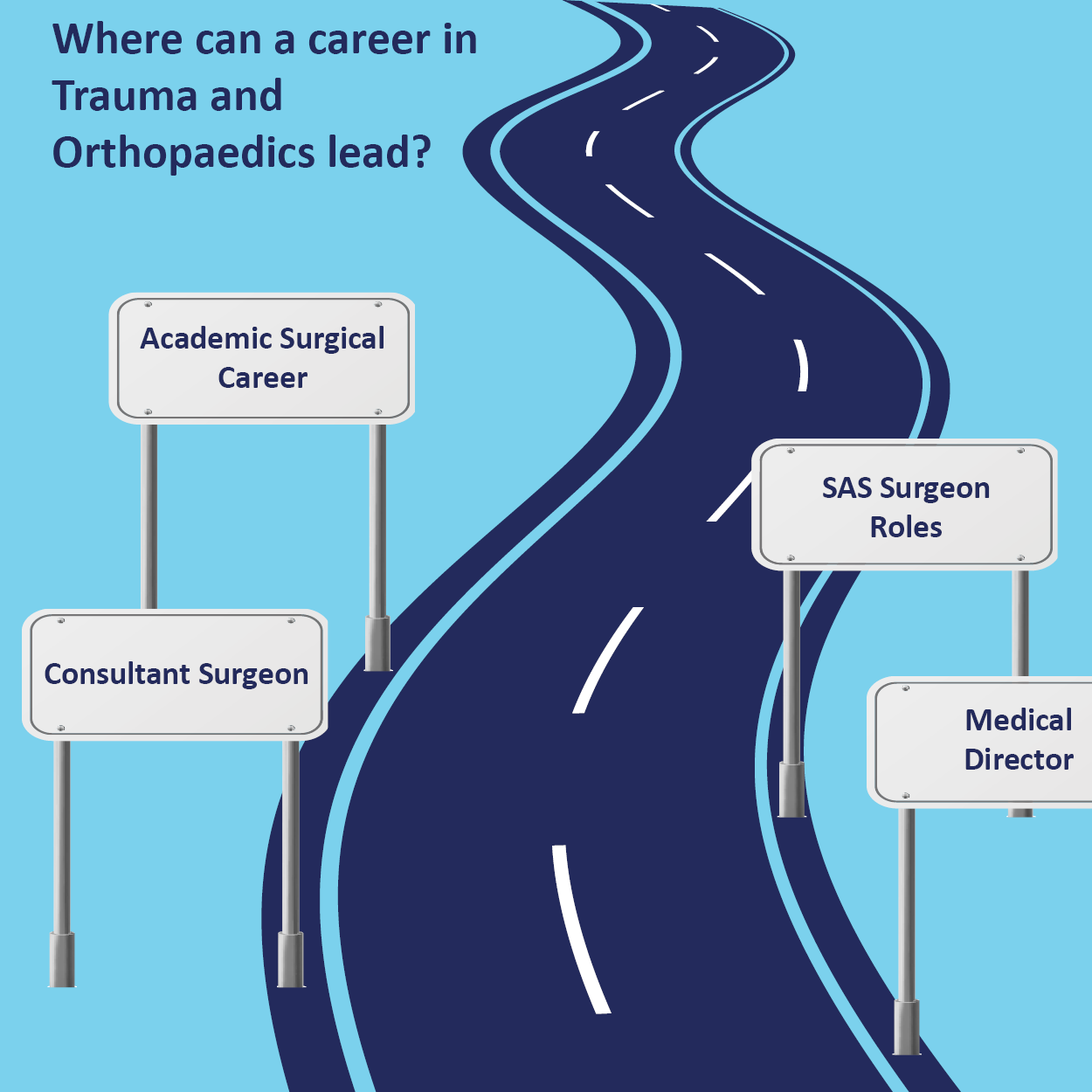 Other non-training grade roles
These roles include:
Clinical fellows
Academic surgical careers (combining clinical training with research or teaching in a higher education setting)
Have any more questions about life as an orthopaedic surgeon? Visit our Your questions answered page to find out more!