How long does it take to train as a T&O Surgeon?
This is the most common pathway to achieving a career in T&O surgery. Find out more on how to get into Medical School.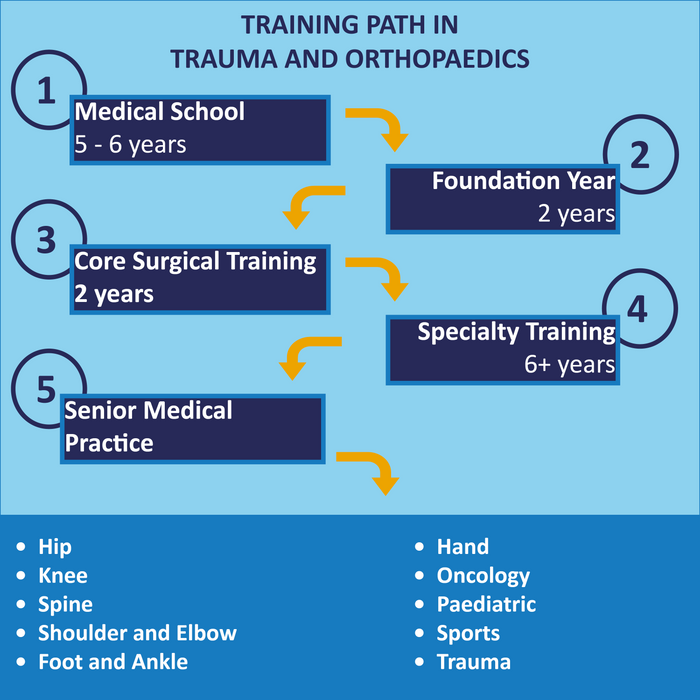 Medical Degree (4-6 years)
Entry method: Application, admission test and interview
Prerequisites: At least three very good A-Levels in relevant subjects, plus good GCSEs
Examination: MBBS, MBCHB
On completion: Provisional registration with the GMC
Foundation Training (2 years)
Entry method: Online application (ranked)
Prerequisites: Provisional registration with the GMC
Examination: Part A of the MRCS may be taken
Full registration with the GMC occurs at the end of FY1
Core Training (2 years)
Entry method: Central recruitment with application and selection centre or interview
Prerequisites: Full GMC registration and completion of foundation competencies
Examination: MRCS (must complete Part A and Part B during core training)
On completion: MRCS qualification
Improving Surgical Training Project (2 years leading the Run Through training)
This is currently only a pilot project starting in T&O in 2020
The aim is to deliver an enhanced experience in surgical training compared with the current core training.
Candidates on this scheme starting this year will be on a run through path to CCT so potentially an eight year programme
Specialty Training (approx. 6 years)
Entry method: Application form, selection centre and interview
Prerequisites: MRCS examination, successful completion of core training
Examination: Intercollegiate specialty exam (FRCS)
On completion: Award of a Certificate of Completion of Training (CCT)
On receipt of a CCT on T&O, candidates are entered onto the Specialist register of the GMC and are eligible to apply for Consultant posts in the UK.
Find out more about specialties in orthopaedics