JTO
Journal of Trauma & Orthopaedics
In June 2013, the BOA launched a new professional and instructional journal for all professionals involved in trauma and orthopaedics called the Journal of Trauma and Orthopaedics (JTO).
The journal is available to both members and non-members of the BOA free of charge, and replaces the BOA's member-only publication 'British Orthopaedic News' (BON).
The JTO has a dedicated news section with the latest in the world of trauma and orthopaedics. The JTO also comprises of a Features section containing interesting articles on various themes, a Subspecialty section and a Medico-Legal section.
If you're interested in submitting an article, please see the Instructions for Authors link below and follow the guidelines.
If you haven't received your copy of the JTO in the post or if you would like to sign up for a free regular subscription, please email [email protected].
A list of obituaries published in JTO can be viewed here.
Orthopaedics Online (formerly The Transient Journal)
Orthopaedics Online is the BOA's digital resource for members to share their thoughts on all things T&O, with the aim of creating a space for shared learning with rapid dissemination. It is not meant to be a scientific journal but more for sharing experience or resources amongst the wider community. Find out more about our new approach and how to contribute! Have your say and reach a wide audience, share your experience, ask for opinions.
| | | |
| --- | --- | --- |
| | | |
| Simon Hodkinson - JTO Executive Editor | Hiro Tanaka - JTO Editor | |
Current Edition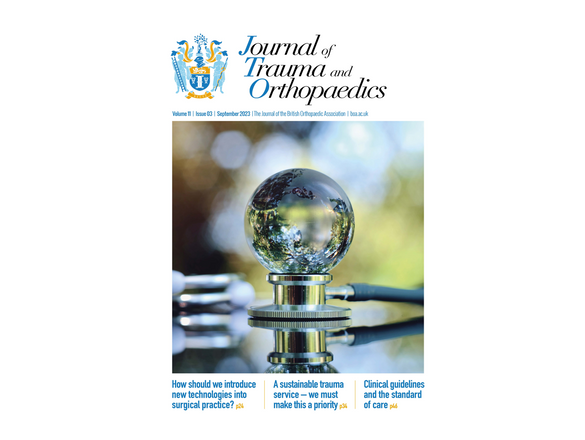 A warm, but currently damp welcome to the September, Congress edition of the JTO...
read more
Advertising in the JTO
To advertise in the Journal of Trauma & Orthopaedics, contact Wendy by email at [email protected] or by calling 0121 200 7820.
Download the JTO Media Pack
Contributing to the JTO
The BOA welcomes article contributions to the journal from our members. Visit our Instructions for authors page to find out more.
Instruction for Authors
Archive