Your questions answered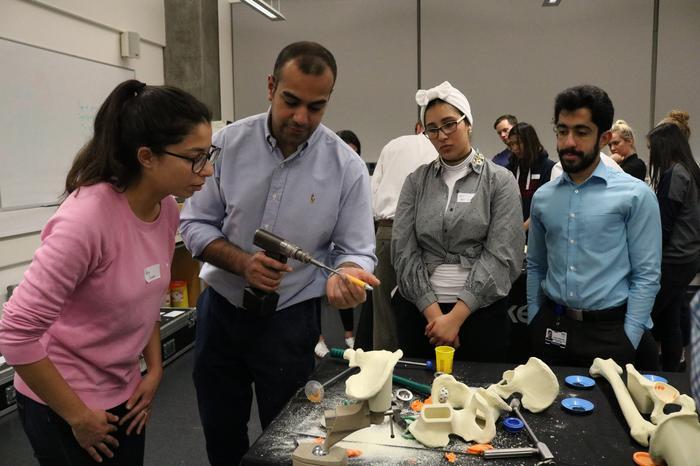 Here are just a few other questions students have asked us about being an orthopaedic surgeon.

How do you spend your day?
Days can vary from operating all day, seeing patients in clinic, admin and managerial days, teaching days and research days. No day is the same.
How long does it take a bone to heal?
Anytime from 6 weeks to a year or two.
Do all broken bones need fixing?
No you can live with a broken bone - for example a broken toe.
Does a metal plate stay in the body forever?
Yes, and if you are cremated they are collected in the crematorium as they don't melt.
How many hours do you work?
A 45 hour week but sometimes but this can vary. They can be longer or shorter.
How many years did it take to train?
It can take 17 years after leaving school to becoming a consultant.
How much time do you spend operating?
You will spend about 40% of your time operating. The rest of your time is spent focussing on patient care in clinics and wards, plus being on-call.
How long is an operation?
Depending on the surgery it can take 20 minutes to 6 hours or more.
How much do you earn?
Enough to have a house, a car and nice holidays.
What metal are plates and screws made out of?
Stainless steel mostly and some are made of titanium.
Do you get to have a break in an operation?
Yes, if it is a long one I might need to go to the toilet or have a glass of water.
What bit do you hate most about your job?
The admin.
How much holiday do you get a year?
6 weeks holidays and 10 days of study leave. You get more holiday the longer you have worked in the NHS.