Combined Services Orthopaedic Society (CSOS)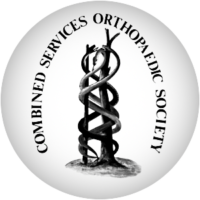 The Combined Services Orthopaedic Society was formed in 1974 in order to promote orthopaedic specialty training in the Armed Services as a civilian organisation. It is funded entirely by the member's contributions and sponsorship from trade organisations.
Meetings are held annually, and are open to all present and past members of the Armed Services with an interest in Trauma and Orthopaedics. In addition Consultant Advisor's to the Defence Medical Services are invited. The change in Military Secondary Care Medical Provision in the last few years, with the formation of the Ministry of Defence Hospital Units within large NHS Trusts and military trainees being placed into centres of excellence, has provided a platform for trainees to present work on a broad range of Orthopaedic subjects.
More recently, the conflicts in Iraq and Afghanistan have increased the relevance of Military Trauma and thus the overall reputation of the Society. As an affiliated Society to the British Orthopaedic Association, the annual meeting now has a recognised position in the Orthopaedic Events Calendar.
President: Mr Simon Hodkinson
Secretary: Surg Lt Cdr Pippa Bennett

Next CSOS Meeting: TBC
E: [email protected]
W: www.csos.org.uk