TCS London Marathon, Sunday 2nd October 2022
On 2nd October 2022 our amazing runners took part in the TCS London Marathon to raise money for the Joint Action appeal of the British Orthopaedic Association. Their goal was to raise over £13,000 to support vital research into musculoskeletal conditions, transforming lives and giving people back their freedom and independence.
You can still support our runners through our Just Giving link below.
Donate through Just Giving
Donate through TCS fundraising
Fundraising Resources
We have some really great ideas in our Official Fundraising Pack which you can download below. When you know what you want to do email us at [email protected] or call us on 020 7406 1767.
FUNDRAISING PACK
You can set up a fundraising page through these various options:
JUSTGIVING
TCS FUNDRAISING
The 2022 TCS London Marathon British Orthopaedic Association's Charity Place Terms and Conditions can be found here.
Further event info can be found on the TCS London Marathon Event website.
Previous Fundraising Events
Virgin Money London Marathon 2021
Congratulations and thank you to Imran Ahmed, Robert Jordan, Lee Longstaff, Zaid Ali and Philippa Turner for running the London Marathon on Sunday 3rd October. Their amazing efforts have raised over £10,000 to support vital research in orthopaedics.
Imran, Robert and Lee have shared their experiences which we hope will inspire you to get involved. If you are interested in running the London Marathon to help raise funds for Joint Action, please contact us at [email protected].
Lee Longstaff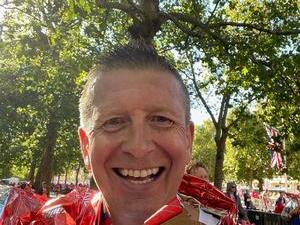 "Thank you BOA for giving me the opportunity to run the London Marathon and raise funds for joint action in 2021! It was an absolutely
fantastic day. Beautiful weather, cheering and supportive crowds and the camaraderie of the runners around me. It was a great first marathon even after hitting 'the wall' at about mile 22. The knowledge that so many sponsors were behind me and the positive impact that the funds would have spurred me on to the finish. This will not be my last!"
Imran Ahmed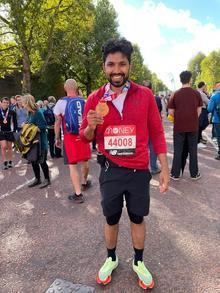 "Running my first marathon was a great experience and I am extremely grateful to the BOA for providing me with the opportunity to fulfil this ambition. It was also rewarding to help raise money for a worthwhile cause. This experience has allowed me to develop my interest in distance running which is something I am looking forward to for the foreseeable future. It was also really fun being able to run with Robert Jordan for the majority of the race. I'd like to once again thank the team at BOA for all the support to make our experience a smooth one. I look forward to the opportunity to do this again!"
Robert Jordan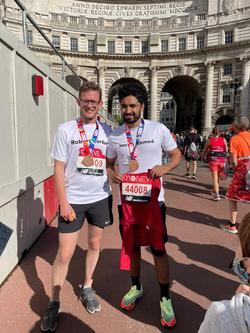 Robert Jordan & Imran Ahmed
"Thank you to Joint Action for the opportunity to take on the London Marathon again. After all the cancelled events over the last 18 months, it was great to be running the iconic London Marathon, making all those early morning training runs worthwhile! The crowds were fantastic and it was especially rewarding to complete it with my friend, Imran Ahmed, both of us fundraising for Joint Action. I am sure the money we raised will be put to good use."
Virgin Money London Marathon 2019
Congratulations to Paul Banaszkiewicz, Alan Cooney, Paul Harnett, Robert Jordan, Ann Oldroyd, Pete Thompson, Jonathan Waite and Caesar Wek for running the London Marathon on Sunday 28th April 2019! We would like to especially congratulate Paul Harnett on his finishing time of 5 hours 30 minutes whilst running in ski boots, this was also a New World Record! The Joint Action runners raised an amazing £14,000. Thank you so much for participating to raise the much-needed funds for Joint Action, the only UK charity that specialises in raising and distributing funds to the entire musculoskeletal spectrum.