The BOA has raised concerns for some time over waiting times for orthopaedic surgery across the UK. Figures released today by Versus Arthritis (VA) provide further insight into the situation for hip and knee replacement in England specifically.
The Versus Arthritis figures are based on Freedom of Information requests regarding procedures in 2018-2019 and show that tens of thousands of people in England waited over 18 weeks for treatment. Furthermore, 2400 people waited over 52 weeks for treatment. Versus Arthritis are now launching a petition calling on the Government to act on growing waiting lists. We fully support the petition and urge our members, colleagues and patient supporters to sign up here.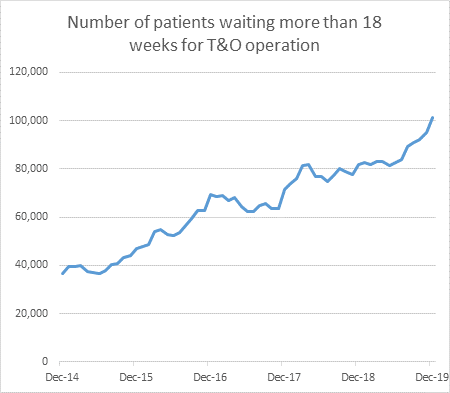 We ourselves have highlighted that the situation in England has deteriorated significantly over recent years. We reported earlier this month that newly released NHS England figures revealed that the number of people in England who have been waiting more than 18 weeks for Trauma and Orthopaedic surgery has now reached 100,000, as shown in the graph below.
Mr Don McBride, President of the BOA, commented:
"We are concerned that orthopaedic surgery is too often considered to be 'optional' surgery and our patients are the first to have their operations cancelled or delayed when there is pressure elsewhere in the health system. Patients on waiting lists for hip and knee replacement surgery are patients who will be experiencing severe pain and mobility problems, which can impact more widely on their physical and mental health the longer they wait. The ongoing deterioration in waiting times is unacceptable. More must be done urgently to ensure that patients receive timely access to the procedures they need."
Versus Arthritis 'Right on time' publication can be found here.
The Versus Arthritis data was published in the Daily Telegraph (subscription required).