Below is a summary of the BOA's viewpoint on new NHS data released 12 May 2022 on waiting times up to March 2022 in England and Wales.
Early 2022 was tough for T&O:
Omicron disrupted elective care where operations were cancelled at short notice
Trauma workload was at all-time high in some areas
Surgical wards were needed for non-surgical patients
Staff shortages
Morale issues

Many difficulties have continued through into May. However, in spite of these difficulties, and through determined efforts of many, early signs of progress in elective recovery for England are showing in the March 2022 data. There were still significant challenges for Wales in latest data on waiting times up to February 2022.
In England over 42,000 orthopaedic operations were conducted in March 2022 which is the highest number since June 2021. This appears to suggest that elective recovery is gathering momentum despite winter challenges. (By comparison, 48,500 orthopaedic operations were typically performed per month pre-pandemic.)

In England there was a reduction in the number of people on one-year, 18-month, and two-year waiting lists. There was an especially impressive 26% decrease in the number of people waiting over two years, which has been a major focus of the NHS.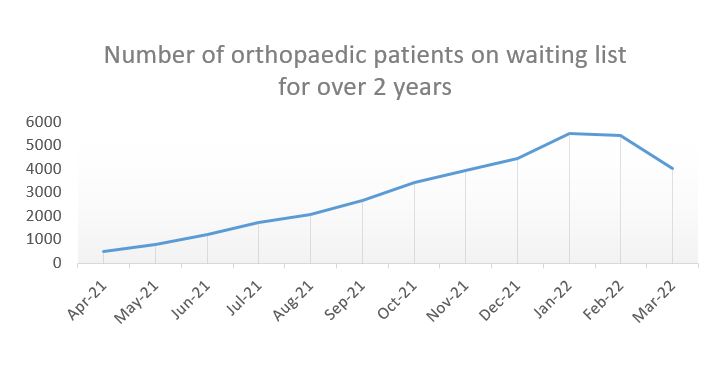 There is a new record for the total number of people on trauma and orthopaedic waiting lists in England at 730,000 in March 2022. This is partly driven by recovering referrals which were 168,000 in March 2022. This bounce back in referrals was expected and means total waiting list are likely to continue to rise before any fall in the longer term.
In Wales the situation is static rather than improving with the numbers of people on 18-week, one-year, 18-month waiting lists all stable. Those waiting more than two years for operations were up slightly. Wales unfortunately started from a more difficult position, with 3% of the population on a T&O waiting list versus 1.3% in England.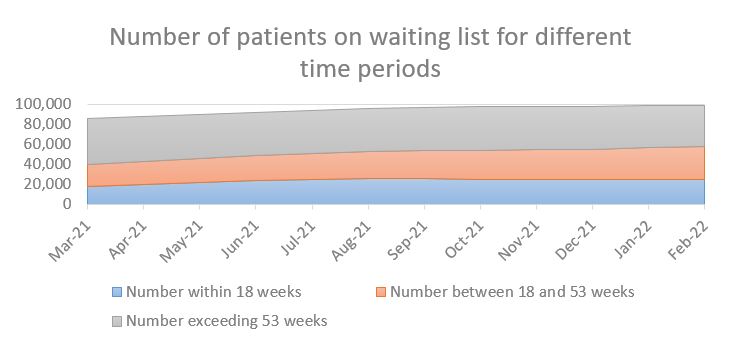 There are a range of different challenges currently affecting smooth and efficient delivery of services, and our Council and Executive Team are monitoring closely. We are continuing to do all we can to support the recovery of elective orthopaedic surgery across the UK.