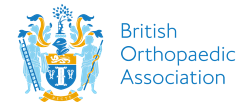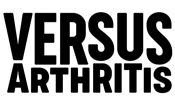 Elective surgery – including joint replacement surgery – has taken a massive hit by the pause in NHS services to deal with the pandemic. At the end of April 2020, approximately 460,595 people in England were on a waiting list for trauma and orthopaedics.
The number of people waiting over 18 weeks has risen sharply due to reduced access to surgery during March and April, having already reached record levels in the preceding months. In April 2020 the number of patients waiting over 18 weeks was double the number waiting this long in April 2019.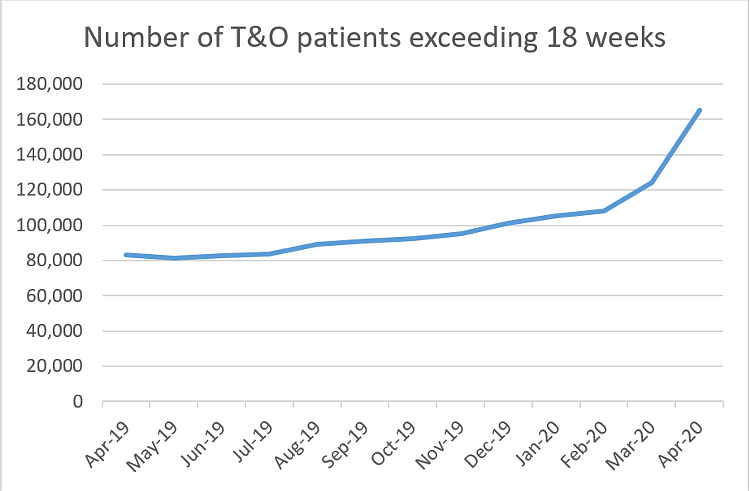 Not only are waiting times astronomical, but there has been a huge drop off in referrals into T&O services. In April only 33,966 referrals occurred, compared to a typical monthly figure of 176,000. Patients need to be reassured that it is important that they access the NHS if they have concerns about their health.
It is vital that the NHS also prioritises restarting these much needed elective orthopaedic surgeries, as reducing pain and increasing mobility is imperative for ensuring patients do not endure progressively worse health as waiting lists grow ever longer.
Latest NHS RTT Waiting Times – Trauma & Orthopaedics
As at end of April there were 460,595 people waiting in England for T&O (489,482-Mar 2020; 519,419 -Feb2020):
64.1% (295,200) of people were waiting within 18 weeks (74.4% Mar 2020; 79.2 Feb 2020), down almost 10% from previous month. 165,395 people are not receiving treatment within 18 weeks for T&O (123,995 Mar 2020; 108,295 Feb2020), an increase of 41,400 people since Mar 2020.
1,592 people started admitted inpatient appointments (30,290 in Mar 2020) 87.8% of these patients were seen within 18 weeks and
43,422 started non-admitted appointments for T&O (99,496 Mar 2020)
Looking specifically at the people waiting with a decision to admit for treatment (i.e. waiting times for patients waiting to start treatment at the end of the month where a clinical decision to admit to a hospital bed for treatment has been made).
At the end of April 2020, approximately 185,916 people (40%) were waiting to start treatment where a clinical decision to admit to a hospital bed for treatment has been made for T&O in England (181,099-37% Mar 2020; 183,705-35% Feb 2020).