By Kate Spacey
Consultant at Norfolk and Norwich University Hospital, Adult Hip Reconstruction and Orthopaedic Oncology
Being brave and choosing what makes you happy, will never be a decision you regret making. You were 100% right to follow your gut instinct…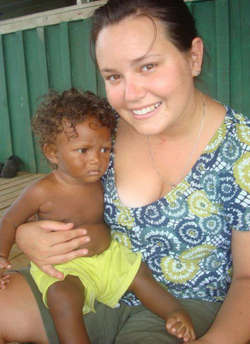 At medical school I had always been interested in Obstetrics. With multiple elective placements including the Solomon Islands, and a BSc in Maternal and Fetal Health, my aspirations seemed well cemented in my mind. Orthopaedics was never on my radar, after all in my mind it was a speciality reserved for the chaps that played rugby.
It turns out however, at medical school they saved the best rotation to last. A really engaging stereotypical Orthopaedic Surgeon during my final year, showed me what a career in orthopaedics was able to offer. Later there was a clear moment during a case in my FY1 year with another quintessential Orthopaedic Surgeon, that quite literally changed my life, and led me to where I am today.
Scrubbed during a revision of a total hip replacement for a periprosthetic fracture, it just made sense to me. There was a problem, multiple solutions planned, and the ability to use your own skills to help a patient return to their life. This was a big case with significant perioperative risk, and not for the faint-hearted. I wanted to be able to do that kind of case. I realised I would be happy if I could do that for the rest of my career.
I think about this patient often, and cherish the thought that neither of them know the extent of the impact they had on my career. The counter of this is also true. We move through life not knowing the true effect we have on patients and colleagues.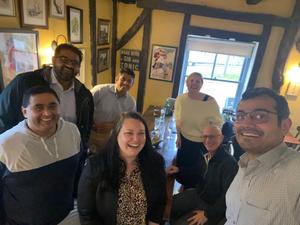 I am now a newly appointed Consultant at the Norfolk and Norwich University Hospital, specialising in Adult Hip Reconstruction and Orthopaedic Oncology and the Co-Director of Education for East of England Orthopaedics. I'm fortunate to work with a diverse and supportive group of surgeons, pictured here celebrating after I had been appointed to my Consultant post.
Don't be a wallflower… Put yourself out there and network!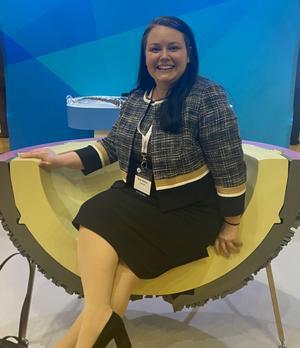 Despite being such a large speciality, in reality as with much of medicine, orthopaedics is quite a small world. Many opportunities will arise from impromptu conversations at meetings, and you will be amazed at how you can build your CV through these routes. Generally you will find the more you do, the more doors that will open with further opportunities. Here I'm attending the British Hip Society Annual Meeting, and couldn't resist taking a seat in the cup!
I was always a reliable and hard-working trainee, and thought I would settle in the region that I trained in. If you want to do this, your training becomes a six year long interview for your Consultant post, and your CV will need to be competitive to get appointed. In reality, apart from being a female hip surgeon, there probably wasn't much else that stood out about me.
A 'boot up the proverbial' was delivered to me by a supervisor midway through my registrar training, because I was becoming another 'cookie cutter trainee' and flying under the radar. At the time I remember feeling quite outraged by their uninvited opinion on my life plans. In all honesty looking back, it was the chat that I needed. After this, I took on multiple additional roles in education and leadership, and I am not in any doubt that my CV flourished and continues to, because of that conversation.
Be open minded to quality advice, but knowing what is 'quality' advice is a skill in its own right! I've never personally gone back to say thank you – but if you are reading this – thank you for making sure I could more than compete for my dream job.
Lift as you climb and pay it forward!
I have been so fortunate to be surrounded by allies and informal mentors that have shown me the ropes, and supported me to transition into my current role. We all benefit from these relationships during our careers and we must not forget that, when we are in positions to help the next generation. Spend those moments training SHOs, getting medical students hands on experience in theatre, and make the effort to travel to conferences to represent and diversify. It will be time well invested in yourself, and your future colleagues.
The first meeting of the Women of East Anglia Trauma Surgeons (WEATS), a networking group I established to promote visibility of Women in T&O at a local level. We were honoured to welcome Professor Eastwood to our first afternoon tea!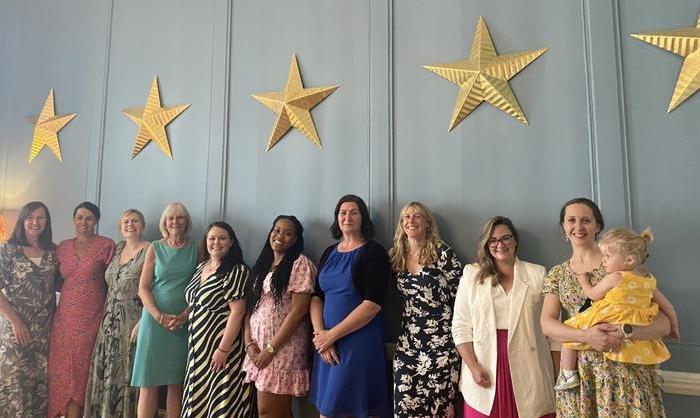 Don't underestimate the bystander cost of your training… Thank your loved ones!
The reality is, there are times you are going to prioritise your training or a career opportunity, and as a result you will miss events with friends and family. They will support you during some of the hardest moments in training, and will ask for comparatively little in return. There will be times that it will feel all consuming, but these moments will be outweighed by the satisfaction you receive from working with the people you like, in a place you like, in a speciality you love. It is easy to forget our friends and family don't get to experience that positive side of our careers, so remember to thank them from time to time, and actively create space for your work-life balance. You will always be replaceable at work, but at home you are irreplaceable.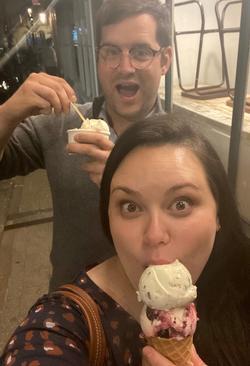 Your friends are the family you choose, and I'm very grateful to have added to my 'Orthopaedic Family' over the years. Here I'm pictured with my 'Work Husband'. We started and ended our training together. It took a lot of coffee, but we bounced off each other along the way and became friends for life. We're fortunate to now work down the road from one another. It's important to celebrate the wins along your journey – and ours always involve food!
My final piece of advice would be to eat, drink and pee whenever the opportunity arises. Look after yourself first, but remember to look after your colleagues around you too.
After more than a decade in orthopaedics, I'm glad to see more surgeons that look like me, but even happier to see so many that don't.