Orthopaedic elective surgery has achieved one of the lowest percentage returns to normal activity during August 2020 according to NHS England data released today (see graph). This reflects the low level of prioritisation afforded to orthopaedic surgery and the treatment of chronic painful conditions compared to the surgical treatment of other diseases. The BOA is urging action on this.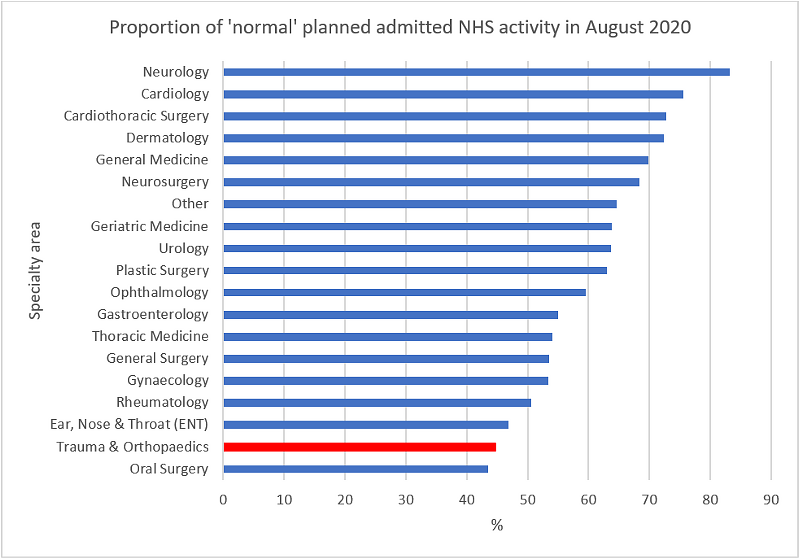 (Graph compares August 2020 with August 2019 admitted activity using NHS England data.)
During the first phase of the pandemic, the NHS stopped non-urgent care and the limited capacity for NHS surgery was prioritised for life- and limb- saving surgery. Essentially all T&O procedures for chronic conditions were delayed. In this second phase, although NHS England had set restart targets of 70% for August, today's data reveal that the NHS in England is far below that capacity and only five out of 19 specialty areas have achieved this. Throughout recent months while operating capacity has remained low, surgery has continued to be prioritised in the same way as during the acute surge phase with low priority for long-term musculoskeletal conditions. Many orthopaedic patients have had further extensive delays to their surgery and their mental and physical health has deteriorated over this time.
Today's figures report the situation as at the end of August and reveal that for trauma and orthopaedics:
over 24,000 people had been waiting over 1 year
302,426 had been on the waiting list for over 18 weeks.
This situation is intolerable for patients. Further delays have an enormous impact on patients who are in pain and are increasingly disabled. Patients fear the loss of independence that severe arthritis can cause. This also has wider societal effects, e.g. where they are unable to work, or become reliant on the state for care and support for day to day life.
We are very concerned at how long these very reduced levels of surgery have continued. It is unlikely that the NHS will return to pre-COVID capacity for some time. Action is required.
Hip and knee replacement surgery offers the lowest cost per QALY of any other operation and are highly effective procedures.
We strongly believe there is a need for a national discussion about how we as a country prioritise and deliver surgery now that the most acute phase of the pandemic has passed.
Some hospitals have been able to undertake elective orthopaedics at 100% of pre-covid numbers of operations. These are typically dedicated elective orthopaedic hospitals. These centres are much easier to make 'COVID-light' or 'green', so they are enabled to deliver more surgery by design and investment. They are also less affected by winter pressures. We believe there needs to be more investment in cold elective orthopaedic centres to address the backlog and continue to provide efficient and timely access to these procedures. The long-term sustainable delivery of vital, cost-effective, life changing orthopaedic surgery depends on it. It is clear that prior to the pandemic the capacity for orthopaedic surgery was not able to keep up with demand.
It is essential that the elective surgery continues to take place to relieve pain and suffering, during the second wave of COVID or further increases in waiting times and further deterioration in the health of so many will be inevitable.