By Camila de Mattos1 and Dawn Laporte2
1Orthopaedic Oncology Surgeon, Skåne University Hospital, Malmö, Sweden, founder and first president of AMOB (Association of Women in Orthopaedics of Brazil) and founding member of WOW (Women of Orthopaedics Worldwide).
2Professor of Orthopaedic Surgery, Johns Hopkins School of Medicine and founding member of WOW (Women of Orthopaedics Worldwide).
Corresponding author e-mails: [email protected]; [email protected]
Published 27th January 2022
Orthopaedic surgery is one of the least diverse specialties in medicine. While approximately 50% of the global population is female, data collected from 63 countries for the 1st Women in Orthopaedics Symposium1 shows that, around the world, women comprise from 0 to 26% of orthopaedic surgeons with the UK data showing that 6.9% of consultant T&O surgeons were women in 2020 (Figure 1).
As a minority in the field, women face different challenges and barriers both to entering and succeeding in orthopaedic surgery. Collaboratives of female orthopaedic surgeons have formed in different parts of the world to support each other and promote the professional development of women in orthopaedics. In recognition of the fact that women in different countries face similar challenges, Women in Orthopaedics Worldwide (WOW) was created to bring these groups together and to support and provide resources to women in regions that do not have that support. WOW also helps create women in orthopaedics networks in interested countries. Our mission is to connect these groups, to network, to encourage and support the voices of women so that by understanding the local concerns we can then seek solutions for breaking down the barriers to women in orthopaedic surgery more globally. We believe this will facilitate more rapid change.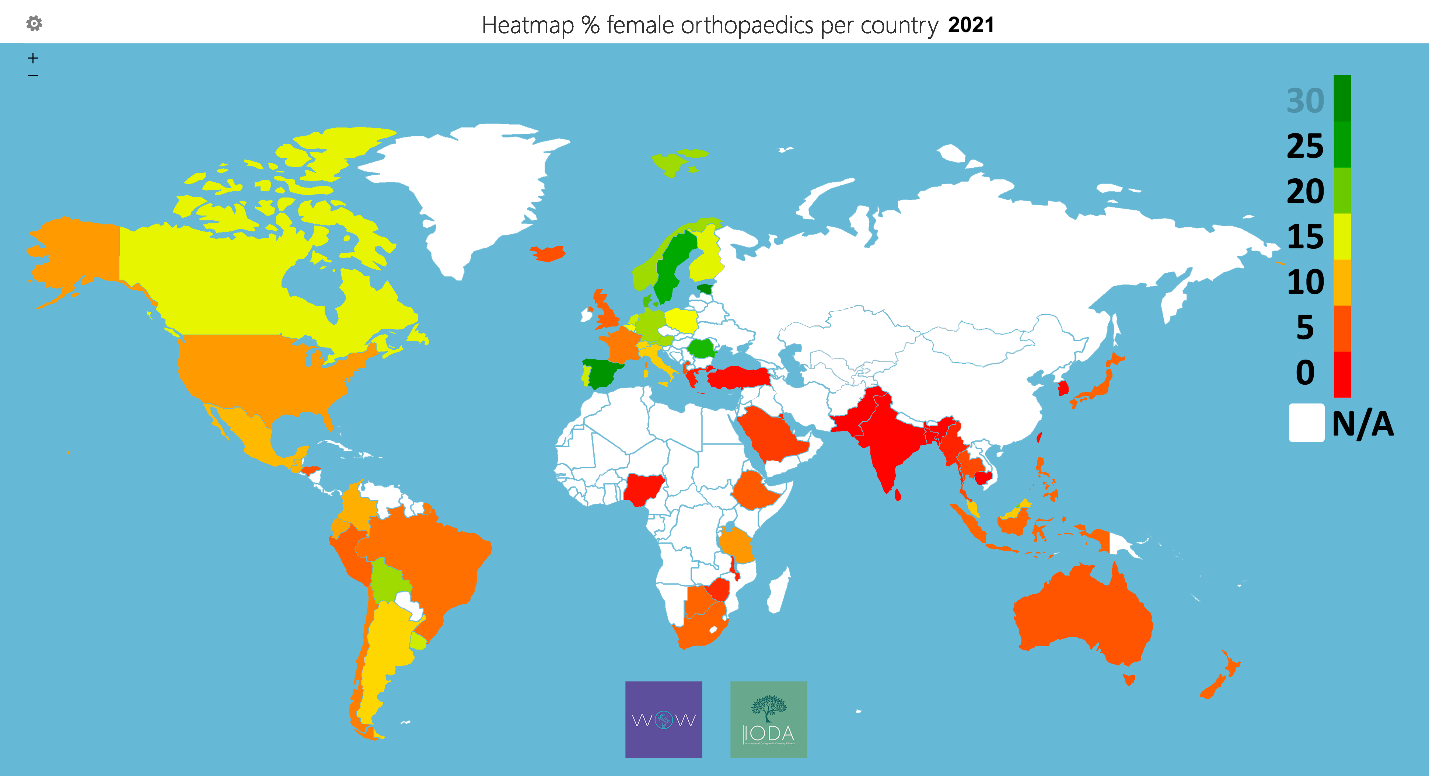 Some regions certainly have better representation than others, however, to our knowledge, there is no country where women comprise at least 30% of orthopaedic surgeons. This is significant as 30% has been determined to be the threshold needed to disrupt bias. At 30% of the population, the critical mass has been reached so that the under-represented population becomes incorporated and represented in the institutional culture – this is key to the success of the under-represented group. Numerous studies have shown that female surgeons help provide culturally competent care and can help address healthcare disparities. Diverse organisations attract the top talent (as they select from a larger pool of candidates), they are more innovative, and they make better decisions for our patients. Increasing the percentage of women in orthopaedics to over 30% will benefit everyone.
Due to the low numbers of women in orthopaedic surgery, finding mentorship and support may be challenging. We want (and need) to attract more women into orthopaedic surgery and sometimes you have to 'see it, to be it'. Young women need to see successful (and happy) women orthopaedic surgeons and to see women in leadership roles. One of the aims of WOW is to raise awareness of the professional barriers that women face in our specialty - and to work together to lower those barriers.
While women certainly still face challenges in orthopaedics today, we would not be here if it were not for the pioneers in our field, the first women in orthopaedics in their country and the first women leaders of national organisations. We believe that highlighting, honoring and acknowledging our history and the achievements, stories and sacrifices from our pioneers in orthopaedics is crucial as this is not well documented in many countries. In order to celebrate and recognise the invaluable contributions of these pioneers, WOW researched and created the 'Pioneers in Orthopaedics' video. Opening with Anna Frumina, in 1919 in Ukraine, the first female orthopaedic surgeon known to us, the video shows all the 'firsts' we were able to gather – the first orthopaedic surgeon of her country and the first black, the first indigenous women and the first female presidents of National Orthopaedic associations. We would like you not just to pay attention to the years and countries, but also the differences between those years, the gap between those women, and the time it took for some countries to have their firsts. Please enjoy the video, celebrate the pioneers in your region, and support women in orthopaedics now and moving forward.
References
'The Past, Present, and Future' - Women in Orthopaedics Worldwide Symposium (WOW), August 28th, 2021. Available at: www.youtube.com/watch?v=dhUYUKFKy9I&t=769s&ab_channel=WOW-WomenInOrthopaedicsWorldwide.