Women in Surgery – Kuwait
By Elham Hamdan
Pioneer surgical programs in the region were initiated by King Faisal University in Saudi Arabia and the Kuwait Board of Surgery in the mid 1980s. Before that period, surgeons from the gulf region received their surgical training from abroad. Men from the gulf region earned surgical qualifications as early as the 1960s however it was not until the mid 1980s that women began to receive surgical training. This has resulted in a gender disparity that persists to the present day and female participation in the orthopaedic profession is no exception.
The scarce participation of female physicians in the field of orthopaedic surgery can be attributed to several issues including, but not limited to, occupational hazards, the absence of a society for female orthopaedic surgeons in the region, lack of relevant clinical exposure and a lack of female role models. Female faculty members only make up 10% of Kuwait University's Department of Surgery.
In Kuwait there are currently only four female surgeons; three of whom practice general surgery and one practices plastic surgery. Over the years female surgeons have assumed several surgical roles including orthopaedic surgery. In 2016 there were 4 female orthopaedic surgeons and 1 in 2015. Between 2014 and 2019 gynaecology has seen 20 females complete training compared to orthopaedic surgery's 5 females. There has been a total of 51 female surgeons who have completed surgical training between 2014 and 2019 in Kuwait.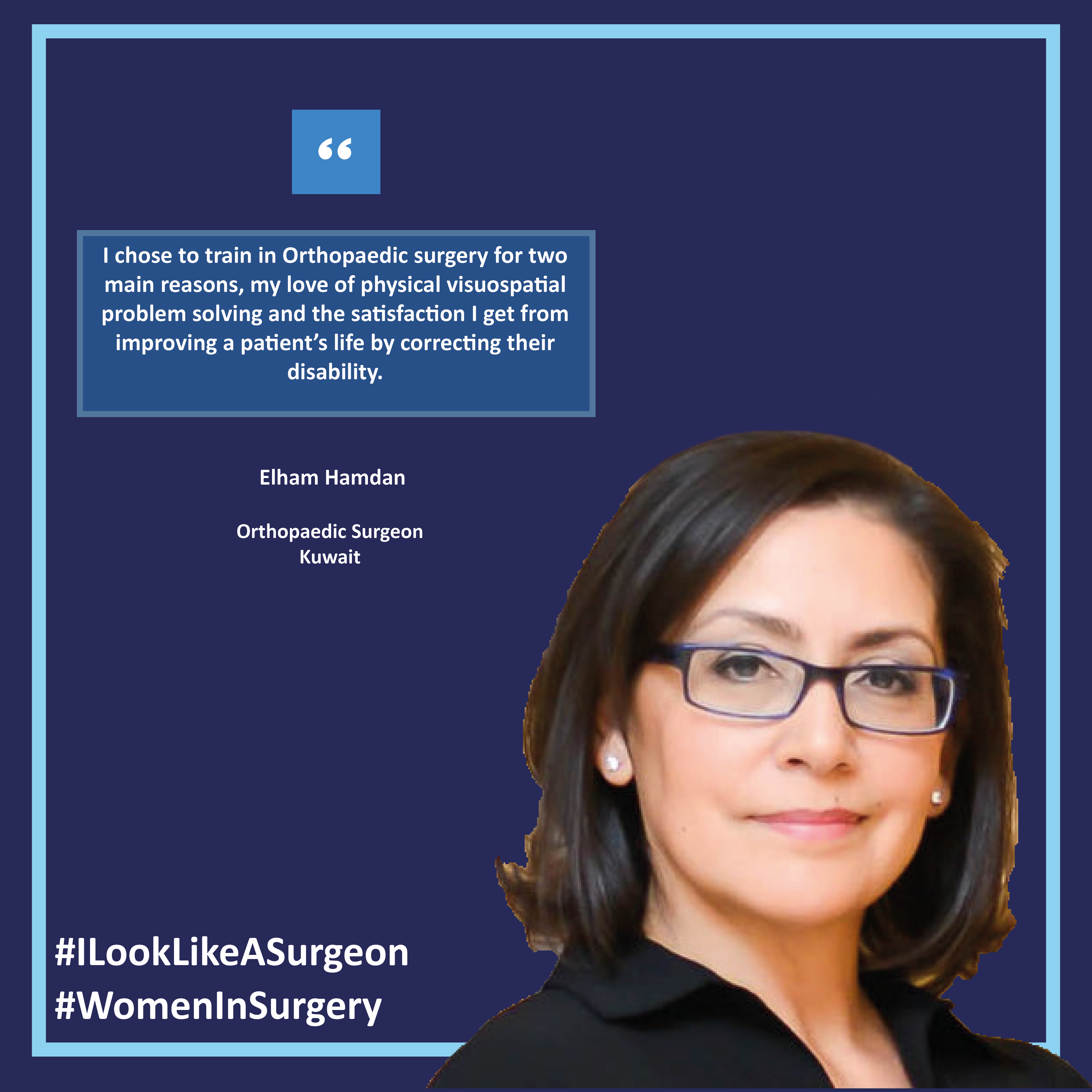 Despite the large regional demand for more orthopaedic surgeons, in the year 2020 only one female was accepted to the orthopaedic surgery residency in Kuwait. Prior to that 2 females were accepted in orthopaedic surgical residencies abroad and one other female was accepted to the residency program in Kuwait since 2014. Accurate data for Kuwaiti females in residency programs abroad is not available. The insufficiency of available data is a general challenge in both research about and initiatives for gender diversity and inclusion in the medical field in the Gulf Cooperating Countries (GCC).
Women make up only 7% of surgeons in the private sector in Kuwait demonstrating that gender inequality in the medical profession locally goes beyond orthopaedics. Nevertheless, opportunities for improving female participation in orthopaedic surgery can be identified. There is an identified perception that women in the GCC are less likely to match in an orthopaedic residency program. More data is required to clarify whether a gender bias exists in order to promote initiatives that are more inclusive of women.
Another opportunity for growth is improvement in maternity benefits for female orthopaedic surgeons. It is perceived that a career in orthopaedic surgery for a female in the GCC, and perhaps even a career in surgery, is less than lucrative due to poor maternity support. In fact, the large majority of females in orthopaedic surgery residencies in the GCC are single. However, more nuanced data on the matter is necessary.