By P Buddhdev, H Gille, Y Ibrahim
Paediatric Orthopaedic Department, Broomfield Hospital, Mid Essex Hospital Trust, UK
Corresponding author: [email protected]
Published 11 May 2020
The global coronavirus pandemic and government-initiated lockdown has its own unique issues for both physical and psychological health with family confinement, isolation and enforced social distancing measures with school and business closures resulting in both parents and children working or schooling from the home environment. With the cessation of team sporting activities, closures of playgrounds and recreational centres and time limitations on outdoor exercise, many families have found alternate ways to keep their children active with a surge in the purchase of trampolines, bicycles, scooters and through interactive online exercise classes.
During COVID-19, the paediatric orthopaedic service at our institution has been redeployed to the emergency department, providing direct consultant management of children with injuries. All musculoskeletal injuries (excluding hands) were seen by a paediatric orthopaedic surgeon and clinical nurse specialist, with more patients receiving conservative management as suggested by the updated BOAST and BSCOS guidelines1. Despite a drop in the total number of patients presenting to Accident & Emergency, a steady flow of paediatric musculoskeletal injuries and presentations were noted, hence prospective data was been collected on all paediatric patients seen since the government-initiated lockdown on 23rd March 2020 including age, mechanism and injury type. A retrospective review of all paediatric trauma for the same time period of 2019 was also collected.
Between the period of 23rd March 2020 and 20th April 2020, 135 children presented to Accident & Emergency with musculoskeletal issues. This was a 19% reduction compared to the same time period in the preceding year. There was no change in the percentage of patients presenting with injuries requiring surgical management (11%), although more conservative measures were utilised in theatre with a drop in cases requiring metalwork for fracture stabilisation.
With regards to injury mechanism, trampoline-associated injuries noted a 500% increase compared to 2019, which also included injuries sustained at trampoline parks. Fractures were sustained in 62% of cases, with surgical management required for 5/40 patients. A higher percentage of fractures of the lower limb were seen in children aged 6 and younger compared to older age groups, including fractures of the proximal tibia, an injury that has been shown to be unique to trampoline-related incidents2. Most children were noted to be unsupervised at the time of injury, with multiple jumpers on the trampoline simultaneously despite having protective net enclosures. Other mechanisms of injury included those sustained on bicycles, falls, trips, play-fighting with siblings and other sports including football, (see Table 1).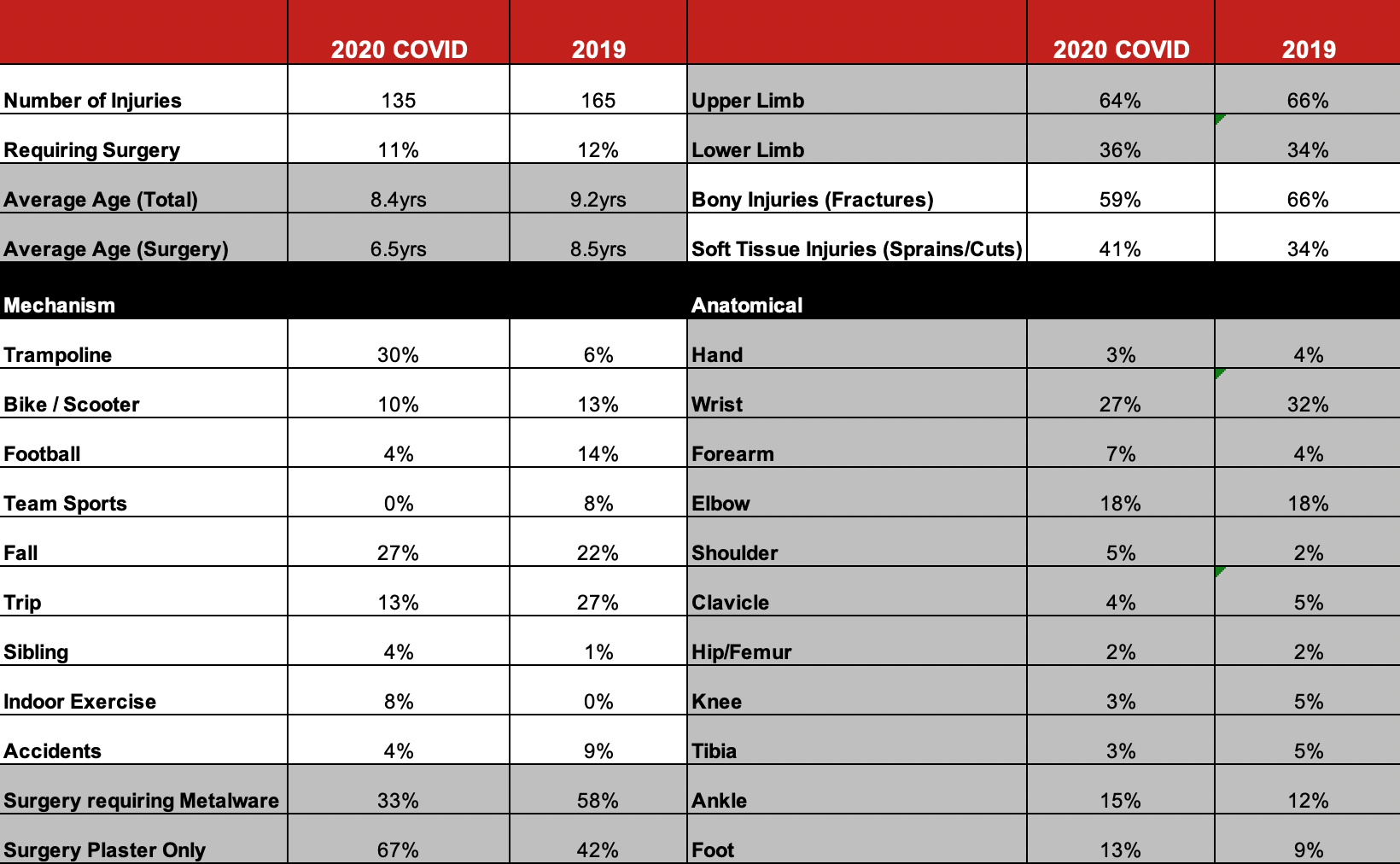 Table 1: Paediatric injuries sustained since UK Lockdown 2020 (23/03/20 - 30/04/20) and for same time period in 2019.
Trampolining has become an inexpensive and popular source of entertainment over recent years globally3. Residential trampolining has been shown to account of more than 80% of injuries in studies published from Canada, Australia and USA despite the increasing number of trampoline parks4-6. Our early experience of managing paediatric trauma during the COVID-19 pandemic has seen a dramatic increase in the popularity of home trampolines during the COVID-19 lockdown in the UK with an associated rise in children presenting with orthopaedic injuries. With the Royal Society for the Prevention of Accidents (RoSPA) and BSCOS advocating for additional caution at this time to offload the burden on emergency departments and the NHS, it has become evident that more stringent and widely-published guidelines and parental education are required for those with home trampolines to maintain safety and reduce the risk of serious injuries.
Suggested Guidelines for Home Trampoline Use
Only allow children over 6 years to jump on full-sized trampolines
Only one person at a time should jump on the trampoline
Supervise all children on trampolines
Do not allow jumpers to attempt somersaults / flips
Ensure net enclosures and spring padding are fitted appropriately and maintained
Do not place trampoline near trees/structures or on hard surfaces
References
British Orthopaedic Association (2020). Emergency BOAST: Management of patients with urgent orthopaedic conditions and trauma during the coronavirus pandemic. Available at: https://www.boa.ac.uk/resources/covid-19-boasts-combined.html.
Choi E, Hong J, Sim J. Distinct features of trampoline-related injuries in children aged under 6 years. Injury 2018;49:443-6.
Chambers G, Holton C, Kraft JK. Radiological trends in trampoline-related paediatric injuries in a major paediatric trauma centre: a 6-year experience. J Public Health 2019.
Briskin S, LaBotz M. Trampoline safety in childhood and adolescence. Pediatrics 2012;130:774-9.
Chen M, Cundy P, Antoniou G, Williams M. Children bouncing to the emergency department: Changes in trampoline injury patterns. J Ped Child Health 2019;55(2):175-80.
Rao DP, McFaull SR, Cheesman J, Do MT, Purcell LK, Thompson W. The ups and downs of trampolines: Injuries associated with backyard trampolines and trampoline parks. Pediatr Child Health 2019;24(1):e19-e25.