Gender Diversity in Orthopaedic Surgery – Canadian Perspective
By Laurie A Hiemstra and Carrie Kollias
The Canadian Orthopaedic Association (COA) is the key national orthopaedic advocacy organisation with a mission to serve the profession and promote excellence in orthopaedic and musculoskeletal health for Canadians. As a subspecialty, Orthopaedic surgery has the lowest percentage of female surgeons among the surgical disciplines in Canada. In 2018, there were 1659 practicing orthopaedic surgeons in Canada (4.5/100,000 population), of which 12% were female. (Canadian Medical Assocation Orthopaedic Surgery Profile). Within the COA, these numbers are consistent with women comprising 11.2% of the practicing orthopaedic surgeon membership within Canada. However, considering that at least half of medical school graduates in Canada are female, this percentage remains far below the expected number of women entering orthopaedics. Despite this, the numbers herald improvement. The percentage of COA members in the female trainee category is increasing with 98/289 (33.9%) being female. A recent publication reporting podium presentations at the COA Annual meeting demonstrates that the number of females on the podium is in keeping with the percentage of female members in the association1. In Canada, although the numbers are still low, women are now being represented through the orthopaedic specialty and in our national professional organization.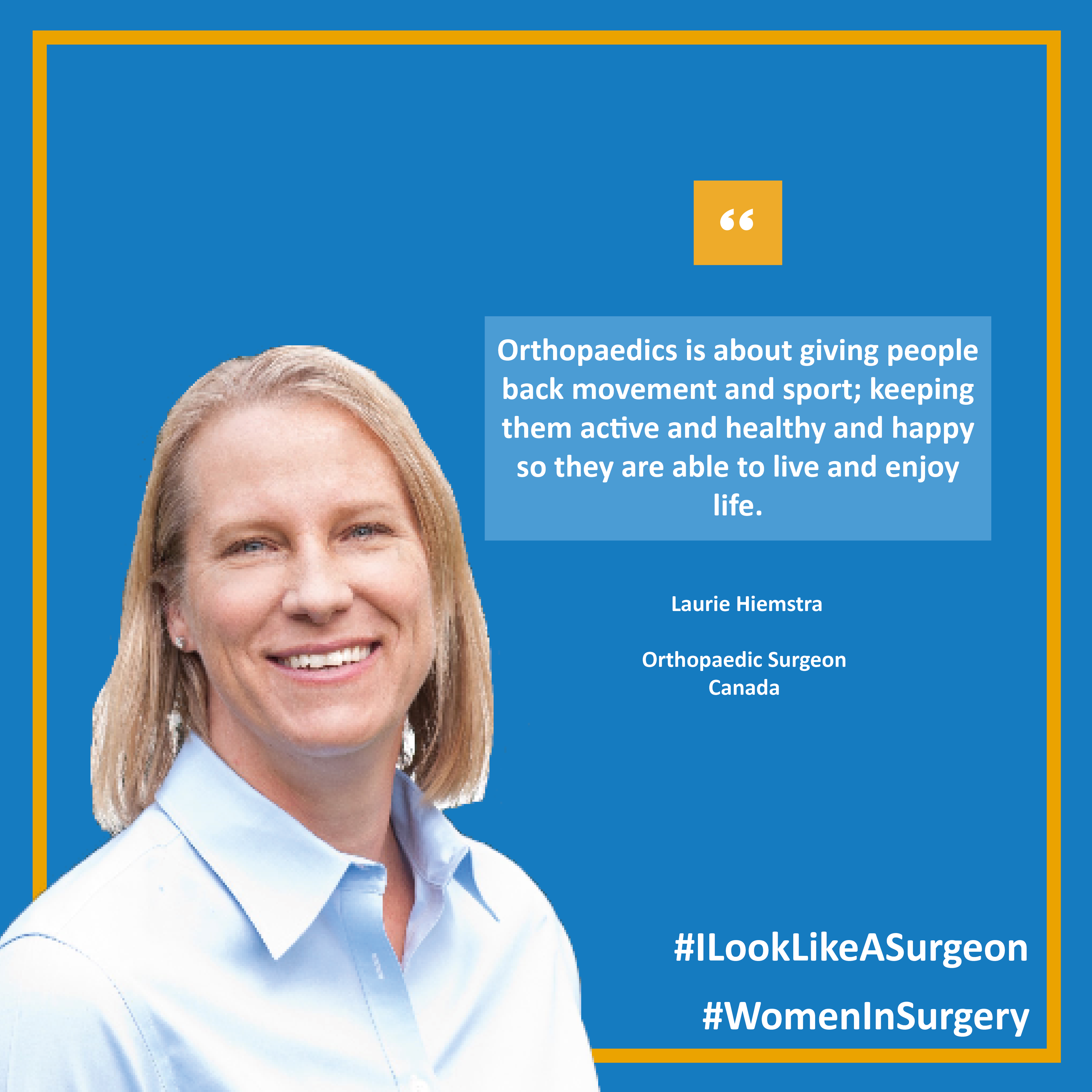 To address this challenge, the COA has developed a comprehensive plan to eliminate the systemic gender-based inequities that exist within the profession. Understanding that there is strength in diversity, the COA seeks to promote a culture of equity, not equality, where all individuals are afforded impartial access to the same opportunities. The COA Gender-Diversity Strategic Plan, published in November 2019 provides key strategies and practical actions to promote and advance gender equity within Canadian orthopaedics in order to maximize the talent, skill and diversity within specialty.
Recent gender equity initiatives within the COA have been aimed at the organisation's membership, as well as at the Annual Meeting. The focus has been on reducing implicit bias, encouraging women in leadership roles, and facilitating mentorship for both trainees and medical students who may be interested in a career in orthopaedics. A program to promote and support the development of leadership skills for women has been initiated with the introduction of a 'Women in Leadership' scholarship to support attendance at a leadership course. In addition, a list of regional, national and international leadership courses is published on the COA website for all members. The COA is working to increase the pipeline of women in orthopaedics by providing regional sessions for university and medical students in an effort to dispel the myths about an orthopaedic career (Real Talk). In each quarterly publication of the COA, a female orthopaedic surgeon is highlighted to increase awareness of women in Canadian orthopaedics.
At the Annual Meeting, Instructional Course Lectures on implicit bias, leadership and mentorship, as well as burnout and physician wellness have been introduced. The COA has introduced a Mentor for the Day program at the Annual Meeting where trainees are matched with a mentor for the day. This is meant to encourage interaction between surgeons and trainees and hopefully provide a forum where organic mentor-mentee relationships can develop. Moderator guidelines encourage diversity of gender, geography and age across all panels and discourage all-male panels. Breast feeding areas are available at the annual meeting for those who might require them.
The COA is committed to continue to advocate for gender diversity as well as equity and inclusion for all minorities, both visible and invisible. Expansion of these foundational initiatives are being planned over the coming years as outlined in the Gender-Diversity Strategic Plan.
References
1. Hiemstra LA WT, Mulpuri K, Vezina C, Kerslake S. Dissecting disparity: improvements towards gender parity in leadership and on the podium within the Canadian Orthopaedic Association. Journal of ISAKOS 2019;4:227-32.