By Suddhajit Sen
Orthopaedic Hand Surgeon, Noble's Hospital, Isle of Man
Published 28 January 2021
The spring of 2020 was different. The gloom of a long drawn winter refused to go away. Despite the long days and blue sky, spring came with the looming shadows of a global pandemic. The UK went into a nationwide lockdown. I received the news from the business manager of my hospital that the proposed planning of an expansion of our orthopaedic department is now called off. All elective operating and clinics were suspended too. The first week of lockdown felt like an early spring break, sans all the entertainment one usually associates with holidays. I must admit, I enjoyed this unexpected holiday. Our hospital had very few COVID admissions and the Island with its closed borders felt like the safest place to be. It was all good and then…
The second week started with a feeling of tiredness, which wouldn't go away with rest. I am a highly active person with a routine of hitting the gym three times a week and playing squash every Sunday. With the usual gym under lockdown, a makeshift gym in my garage was the fallback option. I was going hard at it. However, the sense of tiredness was only getting worse, compounded by a feeling of lumpiness in my throat, a sign of sadness. It took me a couple of weeks to realise that my condition is not getting any better, leaving me feeling trapped and helpless. I was going for that 'gin and tonic' almost every evening when not on-call. Our holidays in Greece were called off in April, followed by more uncertainties around our travel plans for the latter half of the year. My elderly parents back home were going through a nationwide lockdown, scared and helpless. The career move I was expecting to make was now delayed indefinitely. And there was no elective surgical work.
I started going out for long walks with my wife and my two lovely children. I started the conversation with my wife, confiding in her about the struggle. Her initial response was that of disbelief...! She admittedly had never seen me so fraught and helpless. It was a time for a reckoning. I was relieved when I spoke to her; acknowledgement was the first step towards remediation.
We chalked up a pretty comprehensive action plan. Spending more quality family time, more workouts and hide the bottle of gin. I spoke to my personal trainer from the gym for some workout routines and also confided in him about my mental state. Help was coming from all ends. Incidentally, my personal trainer and I are both superhero comic book fans. We decided to do sketch off on favourite characters from both the Marvel and DC universe. I sketched a rugged Thor and a super arty Superman in response to his hairy Wolverine and flashy Cable!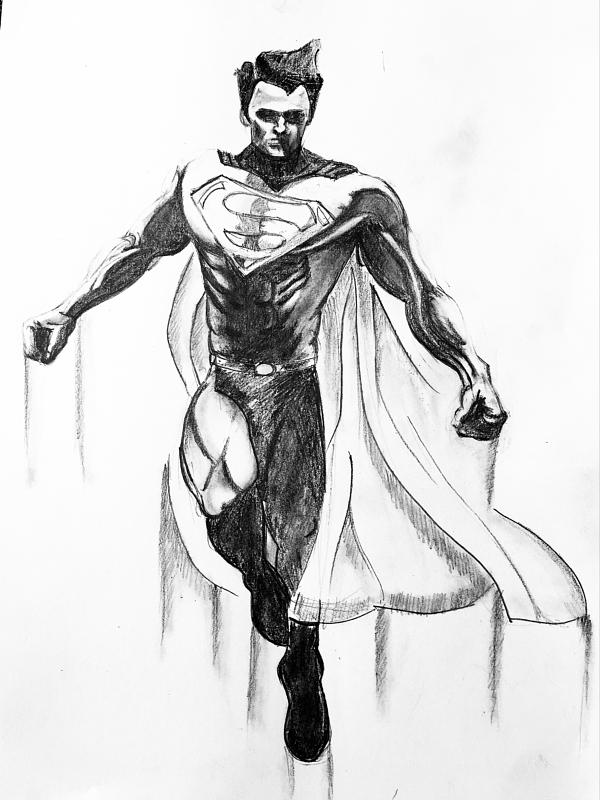 But despite all the efforts, there was no improvement!
Then I got the first break at the end of April when I was asked to fix a complex clavicle fracture. The adrenaline rush of performing a difficult surgery and the satisfaction of doing a good job lifted the weight off my chest. I felt happy that day for the first time after five long weeks! This was the moment of realisation that intellectual stimulation at work was the key to my mental wellbeing. All I cared about myself was stemming from how I fared as a surgeon! This was a scary realisation!
My happiness was short-lived. The adrenaline rush lasted only for a day. The scary question hanging in the air was - am I defining myself by my surgical work? What happens to the real me? It was a moment for introspection, reflection, patience and a change of perspective. I must not lose sight of the real me behind my clinician alter ego. In my surgical pursuit, somewhere I undervalued my role as a husband, son and a father. I also lost a sense of gratitude for all the good things around me. The lockdown probably prevented me from early burnout. It gave me the time to respond rather than react.
I got better eventually. Things normalised sooner in the Isle of Man. However, the border remained closed. Work became normalised too. I learnt some valuable lessons and now in the process of making critical changes in my outlook. I recognise that others could be in a very similar situation. My advice to them would be:
We are more than the sum of all that we do professionally and in our personal lives. Self-awareness is the key!
When something is not right the first step towards remediation is recognition and acknowledgement, rather than ignoring it!
People around us are always there to help; all we need to do is ask!
Like everything else, this shall pass too!
This is a work in progress. I am grateful to all the wonderful people around me including my lovely wife and children and some helpful colleagues and friends.