By Chiranjit De, Vishal Paringe, Sujit Agarwal, Margaret Brooks and Pratap Harbham
Sandwell and West Birmingham Hospitals NHS Trust
Corresponding author e-mail: [email protected]
Published 01 June 2020
Abstract
Due to COVID-19 virus pandemic, there has been an overwhelming change in the way NHS delivers its service. Acute medical care and critical care units are expanded with staffing and equipment. Most of the surgical services were affected too, either directly or indirectly. Trauma and orthopaedic services have led and adapted to significant changes to support the acute medical services at the NHS1 with compliance to revised guidelines from BOA, NHS England and other statutory bodies during the pandemic response1-3. This article summarises and reflects on our experience as a district general hospital on implementation of these guidelines effectively.
Background
There have been many guidelines explaining the target and portraying the desired picture expected from Trauma and Orthopaedic services. However, none of them have outlined ways in how to implement them gradually. This article highlights how our Trust has adopted changes gradually.
Introduction
On the 16th March 2020, the government announced several measures to help reduce non-essential services in the NHS to help facilitate an increase in inpatient and critical care capacity1,6. We are a busy district general hospital which serves about 530,000 people5 in the West Midlands region, delivering its acute trauma and orthopaedic services from two sites. However, during the national crisis due to the COVID-19 virus pandemic, the central idea in the department was to be more accommodating and co-operative with the acute medical care services to help them treat a high volume of COVID-19 patients1,3. We share our journey in how we responded to this unprecedented challenge promptly and efficiently. Additionally, we also breiefly share our experience in this situation with the data we collected for the first six weeks of lockdown.
Step wise changes in T&O Services
Theatres
Pre-COVID-19 set up: Our hospital would previously run one trauma list everyday with two additional trauma lists weekly, two dedicated elective theatres for lower limb, and one upper limb elective list everyday with two elective lists weekly for foot and ankle.
Post-COVID-19 set up:
Dedicated COVID-19 theatre – This was the first resource set up for proven/suspected cases of COVID-19 with clear and well circulated written guidelines on our Trust intranet. Availability of PPE and proper areas for donning and doffing were ensured. We had nominated a 'COVID-19 Theatre Lead' (a Consultant and a Senior Theatre Team Member) to guide us. Change of theatre air-filters, restricted door-opening intraoperatively, optimisation of circulating theatre staff, PPE fitting checks, updated FIT Test for suitable masks, controlled AGP's – all were provided as per the national guidelines7,8.
In line with Government guidance1, all elective operating ceased on 16th March 2020.
Consolidation to single acute site working from dual site model.
T&O theatres at Birmingham Treatment Centre (dedicated for day cases mostly) with recovery areas were reserved to convert into temporary Critical Care Unit.
One of the elective theatres was utilised for Non-COVID-19 patients as a 'Clean Trauma Theatre'.
Initially a second clean elective theatre was converted into a 'Patch and Plan Theatre' dealing with ambulatory trauma cases as day cases to reduce overnight hospital stays.
Considering the reduced number of trauma cases, 'Patch & Plan Theatre' to be merged with 'Clean Trauma Theatre'.
Expanding our 'Patch & Plan' service – patients who would need surgery and could safely be managed at home were sent home after the primary management and pre-operative work-up. They were called to the hospital when a suitable list was available. These waiting lists were reviewed daily by the on-call Consultant with prioritisation of cases1. We also arranged an additional trauma list from time to time considering the demand.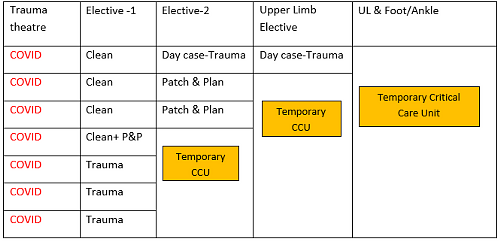 Figure 1: Post-COVID-19 set up for trauma theatres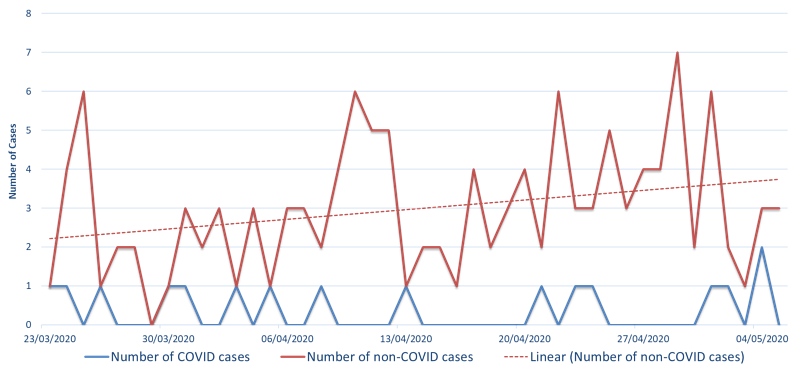 Figure 2: Post-COVID-19 Set up for trauma theatres
Figure 2 shows distribution of trauma cases during this period with parallel operation of both 'Clean' and 'COVID-19' theatre. However, the demand for the 'Clean' theatre was growing with the progressively increasing number of non-COVID-19 trauma cases (evident from the trendline). This was how we performed 131 non-COVID-19 trauma surgeries in our 'Clean' theatre and 16 COVID-19 trauma surgeries in our exclusive 'COVID-19' theatre during this first six weeks of lockdown.
Wards
Elective wards and orthopaedic trauma wards were gradually merged.
Patients with social issues/nursing issues following elective surgeries with potential for delayed discharge were transferred to Rowley Regis Hospital (another Trust site).
Step down in-patient capacity generated at Rowley Regis Hospital for post-operative trauma patient.
At Lyndon-3 ward, where beds are shared with general surgery and other surgical specialities, more beds were freed up immediately for the acute medical services.
Stepwise, we created room for 60 beds and 8 isolation rooms within the hospital without compromising the standard of care.
Wards were demarcated into 'Hot' and 'Cold' ward considering high and low infection risk with 'Entry-Exit-PPE Checks'.
Figure 3: T&O admissions
There was a sudden drop in number of T&O admissions following the lockdown and the average number of T&O post-takes was around six during the first three weeks of lockdown, (Figure 3). However, this number increased to nine during the next three weeks. Therefore, we experienced gradual increase in number of T&O admission recently. This might be an indirect reflection of social reaction to lockdown.
Clinics
All face-to-face follow-up clinics we converted into virtual clinic and telephone consultation – If we feel any patient needs face-to-face appointment/consultation/review it would be arranged.
Use of telemedicine in form of 'VISIONABLE' video-conferencing software to conduct virtual follows.
We ran a parallel 'face-to-face clinic' for screened patients who we felt it was absolutely necessary using consultant-led triaging system.

Figure 4: Proportion of the patients in virtual fracture clinic - Early data for first six weeks of lockdown

Figure 5: Outcome of the virtual fracture clinic

Figure 6: Distribution of the rationale for the patients who had 'face-to-face' consultation following their first virtual appointment.
12 hrs duel site Consultant led walk-in fracture clinic (8AM - 8PM) including weekend sessions to off-load Emergency Department are practically indirect frontline support from the department. We followed the national guidelines on 'triage at the front door and stream patients directly to the fracture clinic before examination or diagnostics'1. Availability of Entonox for conscious sedation helped managing patients in these clinics even more efficiently.
Figure 7: Proportion of the patients in walk-in fracture clinic - Early data for first 6 weeks of lockdown
12 hrs (8AM - 8PM) plaster room facility including weekend availability to off load ED and to support ongoing fracture clinic2.
Through 'Virtual Fracture Clinics', we provided specialist-led out-of-hours (8PM - 8AM) triaging and virtual review.
Specialist-led 'Front door decision making' to avoid unnecessary admissions/follow up visits to the hospital.

Figure 8: Outcome of the walk-in fracture clinic.
'One-time service'- arrangement for physiotherapy team during walk-in clinic and virtual consultation, patient education of self-care of dressings where possible, more splints safely used instead of plasters to help reduce the number of re-visits to the clinics.
Consultant-led decision making during the revised situation – increasing the threshold for the conservative management, expectant management, to safely reduce the number of surgical cases and therefore the in-patients.
Off-site working model by provision of technology support and IT hardware - triaging of referrals, future planning of elective list – few proactive plans to rebuild the service when the crisis is over.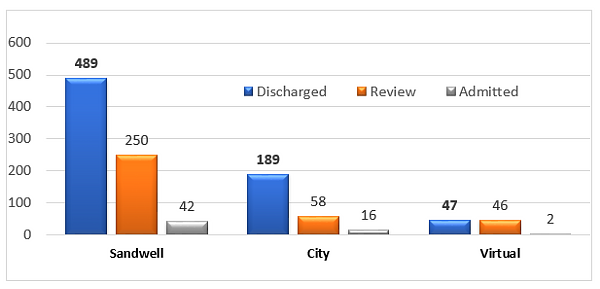 Figure 9: Overall outcome of the clinic services - N=1,139 patients, showing high number of safe discharges following the first consultation in all aspects (Both walk-in on-site and virtual).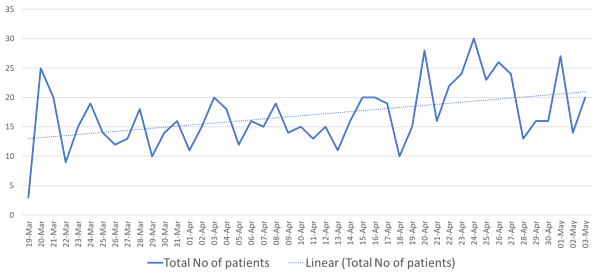 Figure 10: Clinic attendance shows an increase in number of patients seen daily – evident from the dotted trendline. Data for the first 6 weeks of lockdown.
Nonetheless, we have developed local protocols that are aligned to the national guidelines considering the COVID-19 virus pandemic such as use of more splints than plasters, patient initiated follow-up, advise on self-care and soft cast removal at time, higher threshold for surgical plan for fracture management, definitive pragmatic treatment plan etc. Use of dissolvable suture materials in theatres, patient directed care and wound management and patient education for post-operative rehabilitation helped to reduce follow-up visits to the hospital unless needed. All our clinical letters where we followed such revised guidelines were include with a bespoke header to declare that the clinical encounter concerned occurred during a national health crisis. Therefore, such clinical records may provide some support as it is exceedingly difficult to presume the future medico-legal impact of such decision making.
We have used simple measures to practice 'social distancing guidelines'9 in the waiting area of the clinic such as fixed seating arrangements and blocking alternative seats with stickers to maintain standard distance between people.
Handover
To maintain social distancing and safe practice – Virtual trauma handover and theatre list discussion through 'Cisco Webex Meet' video conferencing with a screen share broadcast of presented radiographs. While facilitating access to the trauma meeting for team members, this also ensured that we could minimise numbers attending, and only essential staff member were required to be present physically. While using a tele-based system, it is important to design the meeting room appropriately to ensure the successful broadcast of verbal communication and visual cues to facilitate situational awareness to remote participants. Moreover, the meeting rooms were organised as per the social distancing guidelines.
Expediated training to use the virtual platform and named constant host for the meetings have improved quality. Trauma co-ordinators usually moderate the meetings.
Virtual participation of consultants of different sub-specialities aiding in collective decision making for some critical cases helped in better care. This also helped in smart theatre list planning.
Paperless trauma handover and theatre list – a new practice for the Trust.
Management
Employees who can work from home were allowed, as this helps to practice social distancing and ensured their safety.
Existing trauma hub transferred to a different space leaving the area free at the level of the first floor (adjacent to COVID-19 theatre) to be converted into temporary Critical Care Planning office.
Virtual communications helped to manage the department even from a smaller space.
FIT test for the whole department carried out to find the suitable PPE for everyone and order them accordingly. This helped to move towards PPE-ready surgeon.
'COVID Lead' and on-call consultants guided the team. They ensured that resources are adequately spread between theatres, minor injuries and fracture clinics. Thus, we developed into a more well-coordinated team during this crisis.
Back up in the rota – We kept Registrars and Consultants reserved in the rota to support the service in case of sickness/self-isolation of the colleagues. We moved to a weekly rota which was under constant supervision by 'COVID-Rota Coordinator' to ensure adequate staffing in this fluid situation.
Keeping the optimum number of staff at the workplace to ensure a balance between providing a service and maintianing safety of the staff.
Regular update on the surgical services was circulated and everyone was updated constantly regarding the fluid situation. Online training modules also help the team to prepare to tackle any unprecedented situation.
Tactical meeting everyday with briefing at the end of the day also helped to shape the service with ever changing needs and kept us updated regarding the supply chain.
Portering
The hospital was colour coded blue and red for High and Low infection risk area respectively.
Different lifts were used for High and Low infection risk area.
Portering trolleys were also colour coded for COVID and NON-COVID patients.
Training
Registrars and juniors have been deployed to different roles to support Medics. Trust has arranged virtual and online training modules to support this. Registrars offered them for 'proning' of the patients when needed in critical care unit.
Support have been provided to ED at the same time by dealing minor injuries which freed ED doctors to deal high volumes of COVID-19 patients. Members of the team were educated with ED working pattern.
Registrars also took leading roles in training and circulating relevant literatures among the colleagues and juniors.
Moving forward, we assessed the pandemic response of the trauma and orthopaedic services over the West Midlands region in different district general hospital set up. We also liaised with the district general hospitals under the Black Country Alliance with a framed questionnaire to assess the adaptive changes towards the same service goal. It was evident from the response that the pandemic response of trauma and orthopaedic services in these district general hospitals were according to the laid guidelines from the statutory authorities1-3. Although there were some subtle differences in the way they were implemented considering the capacity and framework of the different hospitals, the final outcome of service oriented goal was homogenous with regards to the time frame and adaptive changes.
Conclusion
Undoubtedly the COVID-19 pandemic has created sudden and rapidly increasing pressure over the NHS demanding for quick and smart action plan to fight this unprecedented crisis. With cohesive and rigorous teamwork in co-ordination with the management team maintaining safe and dedicated patient care, we gradually reframed the trauma and orthopaedic services. At the same time, we have been accommodating to the acute medical services and emergency department providing indirect support. However, during the whole phase of evolution we are coming across different learning opportunities which we feel will upgrade the future model of practice and management plan. Considering the regional responses, different district general hospitals adopted changes in line with the national guidelines with homogeneity in their service-oriented goal with some subtle differences in the way the enacted.
References