By Emily Baird
Royal Hospital for Sick Children Edinburgh
It dawned upon me in late March of 2020, that as well as significant upheaval at work, the balance of my homelife was about to take a serious wobble. Even at the best of times, achieving the holy grail of a work-life balance, seems undoable and I frequently feel conflicted and torn between work and home. Add into this push-pull frenzy of my everyday life: a global pandemic. What could possibly go wrong?
I work in a Children's Hospital, so thankfully I was neither busy looking after children with COVID-19, nor was I redeployed, as we still provided a trauma service and cared for children with the most time-sensitive of conditions. So, in those early weeks, I helped write local and national guidelines on managing paediatric patients during the pandemic, and pivoted our regional teaching programme into a brave new world of virtual learning, but essentially, I had time to devote to my family. My first instincts were to protect my kids. The transmission rates and effects of COVID-19 on children were not known then, so very quickly my husband and I decided to take them out of school and nursery, batten down the hatches and follow the letter of the lockdown law. I realise that I am incredibly fortunate in my circumstances. We have jobs. We have relative financial stability. We have good health. What follows is my personal account of how it can all unravel even from, what can only be described as a very favourable starting point.
And it did start so well. I launched into home schooling with the enthusiasm of a 20-something, day one Primary School teacher, fresh-faced from teacher training and raring to go. Ready to INSPIRE! To impart my knowledge of my many years! On my own offspring! My Mum was a teacher – it's in the genes! One of my favourite parts of the job is teaching students and trainees – this will be so fulfilling! My eldest is only in Primary One – how difficult can it be? So keen was I to embark on this fabulous, enriching journey of learning, that we started, wait for it… a week early during the Easter holidays. I bounded downstairs to the 'classroom' and smugly wrote 'Baird Primary School' on a blackboard easel I'd set up. My children were a bit mystified and intrigued at the transformation from Mummy to Teacher, but happily played along and dutifully sat the kitchen table, ready for the first lesson.
In true WHO briefing style, team introductions were made, the plan set out for the day. "Any questions, concerns, comments?" I asked as I often do at the end of the theatre brief. "Can I have a snack?" asked my eldest. "I need a poo" volunteered the youngest. Okkkaaaay, I thought to myself. My work and home lives are diverging more quickly than two well-placed supracondylar fracture K wires. My children are not part of my surgical team clearly, but they need order, structure and leadership. Surely with my NoTSS training I can marshal and cajole them into a day of productive learning? Share my mental model of Primary School excellence and motivate their little socks off? Well, it's safe to say three and six year olds have not been on any team training courses, and seemed completely immune to my endeavours.
I have always had the upmost respect for teachers, particularly my mother, but oh my goodness, I have gained another dimension of respect for everything they do. I naively thought that I could translate my orthopaedic teaching skills into those of a Primary School teacher. It took me over 10 years of training to become a surgeon with its inherent facet of being a teacher. How many hours did I have to prepare for the primary classroom? Precisely zero. My expectations were definitely unrealistically high, and I think every parent has come to the realisation that they are neither qualified nor the emotionally-appropriate choice for their child's teacher. However, back at the beginning I did not know that. Neither did the very well-meaning school who heaped online task upon online task, onto a plethora of previously untested and uncharted virtual platforms.
Case One. The Beanstalk and the Over-Competitive Mother
We had been tasked with reading Jack and the Beanstalk. No problemo, I thought! Until I remembered my eldest can't yet read. I honestly consider myself to be a patient person, but somehow that patience evaporates in the face of sounding out words at a glacial pace. Next, we had to write some reflections about the characters. Alright, let's teach some social skills and discuss interpersonal relationships. "So, how would you describe Jack?" I asked searchingly. "Jacky?" replied my eldest. "How do you think the Giant is feeling?" I went on. "Hungry!" Righty-oh, let's move onto the craft challenge. Mustering up my best Tony Hart vibes, I read the instructions with dwindling enthusiasm. He is to build a giant beanstalk, normally made as a team effort in the classroom, from tights stuffed with newspaper and spray-painted green. As much as I love a challenge, I was reticent to sacrifice a good pair of tights, and green spray paint was not in my craft arsenal. My first concern was unfounded, as, little did I know that I did not don a pair of tights for the remainder of 2020, favouring scrubs or a Lycra, activewear ensemble. However, this was day one of Baird Primary School, and knowing that the class' work would be displayed for all the class teachers and fellow parents to critique, my competitive nature got the better of me. Cue, literally hours on my part of gluing loo roll tubes, feeding deconstructed coat hanger wires through them in an intramedullary fashion, and (thanks be to the Gods of Amazon Prime) painting them beanstalk green. My eldest lost interest after 20 minutes and the youngest after five. Instead of them learning and enjoying the experience, they witnessed an horrific display of competitive parenting. To my great shame, I photographed this 'accomplishment' and uploaded to the school's website, and also to Twitter. Look at me! Winning at home schooling. Or so it would seem through the distorted eye of social media.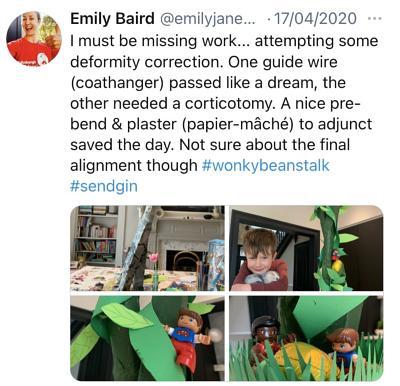 Case Two. The Three Little Pigs and the Terrible Triad
Next week's story was the tale of the Three Little Pigs. By this stage, I was in the thick of re-prioritisation of my elective work. Working from home, I made my way through every patient, deciding if I needed to see them face-to-face, virtually or if they could wait to be seen, and how long that wait could be. I was calling worried families, explaining why I could not operate on their child, and apologising that I could not even give them any idea of when the operation would be rescheduled. I cannot imagine how difficult that uncertainty would be for the patient and their relatives, and that weighed heavily upon me. However, The Baird Primary School was still open for business, so these calls were made during 'Breaktime' when the kids would be slung unceremoniously outside to the back garden, whilst I single-handedly kept Nespresso in business and worked. Despite my best efforts, work emails increasingly pervaded the school day, and multi-tasking was taken to ever higher, and ultimately unsustainable, levels. Tensions frayed after further fruitless attempts to teach reading and writing, on an uncharacteristically hot April's day, lead me to announce: "Class! Outside lesson!" and we decamped to the patio to construct houses of straw, sticks and bricks, and huff and puff them down with Mummy's GHD hairdryer. Taking my laptop outside, I fired off a few emails and uploaded some of the morning's school work before the day's deadline was due, whilst building work was underway. My youngest was earnestly trying to get involved in construction, but in the words of my eldest "He's ruining the whole, entire thing!!" As they fought and bickered, sticks, straw and Lego bricks strewn to all four corners of the patio, the eldest stepped on the laptop. Crack. Both literally (the screen was in smithereens) and figuratively (my mental state). Much like I thought I was a patient person, I also thought I was a calm and non-shouty person. No, also wrong. The melting pot of work stress, a captive home environment, and my guilt at inadequately parenting and schooling had bubbled over.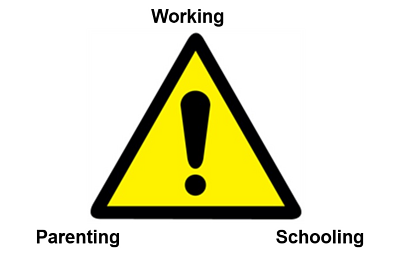 And herein lies the rub. It was becoming blatantly obvious, you cannot perform the three tasks of parenting, schooling and working simultaneously. The terrible triad, as I now call it, is only too familiar to working parents. There should be crucial boundaries distancing these activities, but unfortunately the pandemic has broken them down, chewed them up and spat them out. You cannot successfully merge them. I look forward to and feel very grateful that, by and large, work means leaving the house and travelling to the hospital. At the height of the pandemic, this meant I was physically in work only two days a week, and although I missed the volume of operating and clinical encounters, I was extremely grateful for the break from home and the social interactions that my job is so wonderfully full of. I am truly in awe of parents who exclusively work from home and simultaneously home-school, and do not have the respite of the workplace. I am also in awe of the efforts that children and teenagers have been making up and down the country, in this topsy turvy educational environment.
Case Three. Goldilocks and The Three Bears: Be More Goldilocks
Even as work became busier with the warmer months bringing trampoline-related trauma and a return to more elective work, Baird School was not out for Summer yet. Thankfully by this stage, the school had realised that 20 tasks a day were not achievable, and in any case, there was major fatigue, both pupil and parental. The last topic of the term was Goldilocks and it suited the defiant mood of the classroom. Wander randomly and impulsively, eating as you go, taking naps and generally not giving a damn. Where do I sign? Long gone was the blackboard and the WHO morning brief, and that week the only task I assigned was to 'Be More Goldilocks.' Chocolate snack at 9am? Why not. Watch random YouTube clips of people falling off things. Of course. Obstacle course around the entire house and garden, recreating some of the falls. Knock yourself out! Not literally. I'd gone from attempts to structure and direct, from blackboards and morning briefings, to the loosest form of parenting and schooling imaginable. Like when the substitute teacher would wheel in the TV to the classroom, open a bag of Wotsits and put his feet up on the desk. Happy days! In the weeks that followed, I followed the boys' lead and we had some amazing, truly, carefree adventures. I mostly resisted the urge to post on social media, as I am too aware of the pressure of advertising the 'best bits' when in reality most of it is a bloody, hard slog.
Home-schooling 2.0: The Fairy Tale Ending?
Going back into another lockdown and further home schooling was a real blow, but this time the boys were in Key Worker School and Nursery, and on my schooling days I chose two or three educational tasks per day, and left the rest of the day unstructured. Rather than elaborately constructing beanstalks, we have built shoogly dens and baked some very average scones. Yes, there are still days that I have considered a G&T before the sun is over the yardarm, and most days I drink my body weight in coffee. Most days I skip off to work delighted that I will have some adult company, solo loo trips and I'll be able to fix fractures with superior implants to coat-hanger wire and papier-mâché. But the pandemic has changed us all. I feared that it would send all my work-life balanced spinning plates to the ground, but it has taught me, at least at home, to slow down and Be More Goldilocks. There is a balance that is 'just right' and that is the balance that you achieve by doing your best, whatever that means to you.